DealDash April Vacation Ideas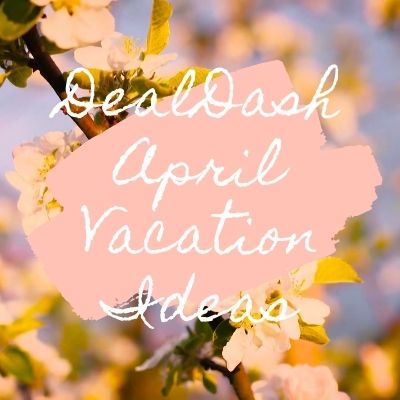 April vacation is soon, but many people are still stuck at home. DealDash has some ideas to make your kid's April vacation fun, anyway.
Spring is here, and with that comes April vacation from school. April has so much potential for the activities you can do with your family outside. Stay socially distant, but still have fun. How do we best enjoy this time meant for family fun? Read on for some suggestions from DealDash.
April Vacation at the Beach
Firstly, yes, it's too cold for swimming at the beach in most parts of the country. However, for many people, the water and swimming itself isn't why they go to the beach. Sitting in the sand, under the sun, breathing the fresh air, is what people want after a long winter. And for kids, playing in the sand, running around looking for seashells, and finally just getting out of the house is enough for them to have a good time. Additionally, this is a great time for the beach because it's still technically the "off-season", so most are still on a winter pricing model, which means much cheaper fees for things like parking and umbrella rentals. Before you decide to take a trip to the beach with your kids, be sure that the area you want to visit is open and check to see if wearing a mask is required/advised, and act accordingly.
Sports and Exercise Outdoors
Secondly, if your kids have been cooped up all winter as mine have, they are ready to get outside and do sports. Depending on the restrictions in your area, your local parks and playgrounds might or might not be open. So before you commit to taking your kids to the basketball court, soccer field, or baseball field check your local ordinances. If these group sports areas are still closed, no problem! Instead, take your kids on a hike in the woods, a walk around the lake, a bike ride around the neighborhood, or whatever your family enjoys.
If you're having trouble getting started, Parents Magazine can give you some ideas. Their article, 13 Fun Ways for Kids to Spend More Time Outside, has some excellent ideas.
Learn a Fun Skill (DealDash Can Help)
Next, if your kids aren't the outdoorsy and sporty sort, that's okay, too. April vacation is a great time to catch up on craft projects, Lego builds, or learning something fun. Have your kids mentioned that they are interested in learning a new skill? April vacation is the perfect time to really devote some energy and time into learning something new. Here are a few ideas to think about, if your child expresses an interest in learning a skill but isn't quite sure where to begin.
A musical instrument – A week of April vacation is ample time to learn a simple song or two on the piano, guitar, or recorder.
Coding – There are tons of free apps on the App Store and Google Play that will teach your child (and/or you!) the basics of coding. My daughter, age 9, recently used one of these apps and was able to make a simple game that she was so proud to show me.
Baking – I don't know about your kids, but mine love to eat! My daughter in particular loves to help in the kitchen and is very excited about learning how to bake cookies and cupcakes.
Building – My oldest, who is 13, loves it when our contractor comes over to do work on our house. Luckily, the contractor is our neighbor and is willing to let my son "help" him. So if your kid is interested in making things with their hands, why not try to find a woodworking project for them?
Need materials or tools to help with any of these new skills? DealDash can help. You will find tools such as drills, toolsets, and more up for bid. Additionally, kitchen supplies such as stand mixers are available in the Kitchen and Dining category.
Thanks for Reading
April vacation is normally spent traveling to fun destinations. However, that still isn't possible for many people. I hope this article has given you some ideas on how to help your kids have fun closer to home. Make the most of April vacation by using the tips in this article. Thanks so much for reading this DealDash article on making April vacation fun for your kids.
Help your kids have fun with these tips from DealDash. Need any building or craft supplies from DealDash? Visit now to see how much you can save. Have a great time and happy bidding everyone!
This sponsored DealDash blog article was written by Dawn E, a mother of 3 who loves DealDash. Dawn was compensated for writing this article. Check out Dawn and her cats on Instagram! This blog is written by real DealDash customers. The opinions and advice shared here represent our customers' views and not those of the company.