Still Working From Home? DealDash Tips & Tricks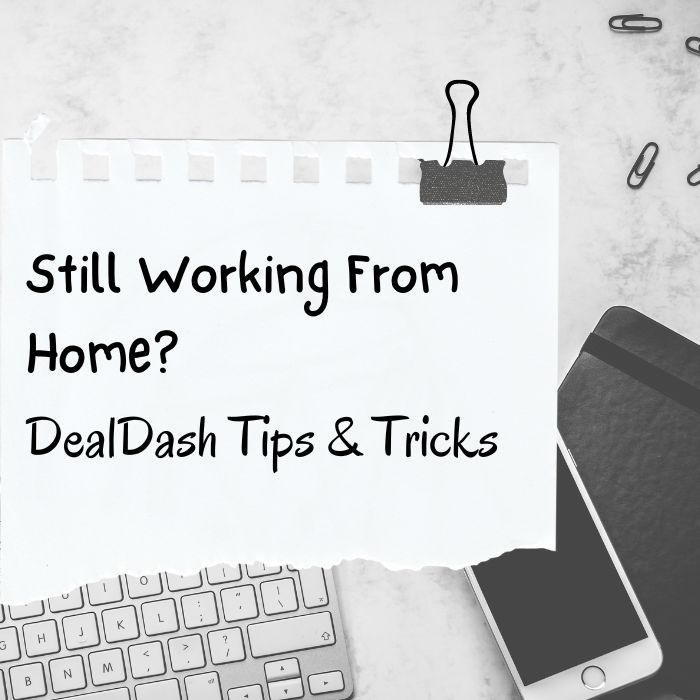 Are you one of the lucky ones who is still allowed to work from home? Read this article for some tips and tricks for success.
Working from home has become a norm for many of us in the past few years. However, many companies are now recalling their employees back to the office. Are you one of the lucky people who still get to work from home? You will want to keep your productivity up, but with so many distractions like family, pets, or even the TV, staying productive can be difficult. Read this article for some tips and tricks from DealDash to help you prioritize work productivity.
Working Tip 1 – Schedule Your Day
Create a routine that works for you by setting specific work hours and start times. This will help you stay organized, focused, and motivated. By structuring your day, you can effectively manage time for work and other activities. You can easily schedule your day by using your calendar on your phone. Set up different "chunks" of time that you want to use for different job functions. Set an alarm for 15 and 30 minutes before you need to switch tasks. This way you can be prepared when it's time to switch work tasks.
Working Tip 2 – Define Your Workspace
Having a designated workspace is crucial because it helps create a separation between your work life and your personal life. Create a comfortable, quiet, and distraction-free workspace where you can focus on your tasks. Keep it tidy, and organize your desk to help reduce clutter and to create an environment that helps you work with focus. (Be sure to keep reading for some home office items from DealDash.)
Working Tip 3 – Stay Connected
Stay connected with your colleagues, managers, and clients. Communication is essential while working from home, so make sure you stay connected and update your team on your progress. With several tools to choose from such as emails, Slack, phone calls, and Zoom meetings, you can collaborate with your team from anywhere.
Working Tip 4 – Take Breaks
Taking breaks from work will improve productivity and help you feel refreshed. During breaks, engage in physical activities such as walking or stretching to help relieve stress and tension. Having a proper work and break schedule will help you work more efficiently throughout the day.
Working Tip 5 – Combat Distractions
Distractions may arise, but combat them by shutting off your phone notifications, turning off your TV, and telling your family not to disturb you during work hours. Minimizing these distractions can help you produce efficient work, and it also helps you focus better and concentrate on your work projects.
Working Tip 6 – Dress the Part
Getting dressed as you would do for work helps to create a work-like atmosphere in your home environment. Dressing up in professional clothes helps to motivate you to be productive and shift you into the work mindset. You'll find it easier to start your workday when you are in professional clothes instead of your loungewear.
DealDash Has Home Office Supplies
There's nothing better than a nice workspace to keep your productivity up. If you have been using the same old office items day in and day out, maybe it's time for some new items. Visit DealDash for some fresh new items for your home office. You will find ergonomic desk chairs, beautiful L-shaped desks, and wireless chargers. You will find all of these items and more when you check out the new auctions on DealDash.
Thanks for Reading
Use these tips and tricks to help you stay productive, efficient, and motivated while working from home. Thanks so much for reading, and be sure to follow these tips to be highly efficient while working remotely. You will find that both you and your boss will be happy when you use these tips to stay productive. Be sure to check out DealDash for all of your home office needs such as desk chairs and electronics. Have a great day, and happy bidding everyone!
This sponsored DealDash blog article was written by Dawn E, a mother of 3 who loves DealDash. Dawn was compensated for writing this article. Check out Dawn and her cats on Instagram! This blog is written by real DealDash customers. The opinions and advice shared here represent our customers' views and not those of the company.