DealDash Easter Baskets for Everyone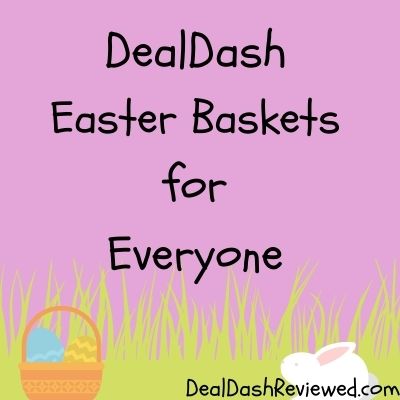 It doesn't matter if you're 6 or 60+, everyone can enjoy an Easter basket. You don't even have to be human – pets need a little Easter fun, as well. Read this article from DealDash to get some super ideas on Easter baskets for kids, adults, and pets.
Now is an excellent time to gather items to go into Easter baskets. No matter who you are gifting an Easter basket – from kids to seniors, DealDash has some great things to include. Easter baskets don't have to be all candy- get something that you know they'll love. Read on for some Easter basket tips, from DealDash.
Kid's Easter Baskets are Easy
To begin with, let's get the easy one out of the way. Kids! Most kids, smaller ones especially, will be happy with a basket that's mostly candy. If you want to sneak in some healthy food, great! My kids all love those small packs of dried cranberries, they even have ones in cherry and strawberry flavored now. An Easter basket might be a good time to try a fun, new-to-them type of fruit as well, such as dragon fruit or a cherimoya. If your kids aren't into fruit, why not try a food that they have never had before? I have found that Asian grocery stores are a treasure trove of interesting foods and flavors. For example, our most recent trip included mochi filled with peanut butter and wagyu steak-flavored potato chips! Of course, you will want to add a few more surprises. Try stickers, fun-shaped erasers, and in the case of older kids, perhaps a $5 or $10 gift code for iTunes or the Google Play store.
Having trouble thinking of exotic fruit to put in your child's Easter basket? Woman's Day Magazine can help. Read this article and discover some interesting fruits for your family to try.
Adults Like Easter Baskets, Too!
Next, don't forget the adults in your life, too. We have all had a hard year, who not brighten your husband or wife, best friend, or Mom's Easter? Think of the person to whom you are gifting a basket, what are their favorite foods or hobbies? As an example, my husband doesn't really have any hobbies, but he sure does love to eat! For him, a basket that included shelf-stable sausage, crackers, and cheese would be just the thing. For myself, fun or cute office supplies, chocolate, or a gift card to Gamestop would be perfect!
The best way to figure out what would be good in an Easter basket is to think about what the recipient uses the most – do they love to do puzzles? Read ebooks? Write old-fashioned snail mail letters? Figure out their favorite pastime, and think about what they have to continuously buy to do their hobby. A big spool of thread might sound like a terrible gift to you, but it would make me jump for joy!
Don't Forget Your Pet – Check DealDash
Finally, don't forget your pet this Easter. Pets large and small will love a custom Easter Basket that you put together for them. Your dog or cat will love packs of treats, while your bird will certainly enjoy a new toy for their cage. Bunnies, guinea pigs, and even hamsters can get in on the fun as well. Check out your local pet store for new decorations and hiding places, running wheels, and other fun small animal items.
When you think about buying a new pet bed, cat tree, or food bowl, think DealDash! You will find these items, and also items to clean up after your furred or feathered friend such as robotic vacuums or targeted spot carpet cleaners.
Thanks for Reading
Planning and putting together an Easter basket might sound like a daunting task, but use these suggestions to make it easy. Thanks for reading the article, and have a lovely Easter.
Use the tips from this article to put together an Easter basket for everyone in the family. Visit DealDash for gifts for Mom and Dad, pets, and of course your kids! Have a great time on DealDash and happy bidding everyone!

This sponsored DealDash blog article was written by Dawn E, a mother of 3 who loves DealDash. Dawn was compensated for writing this article. Check out Dawn and her cats on Instagram! This blog is written by real DealDash customers. The opinions and advice shared here represent our customers' views and not those of the company.