DealDash's Summer Break Fun for Kids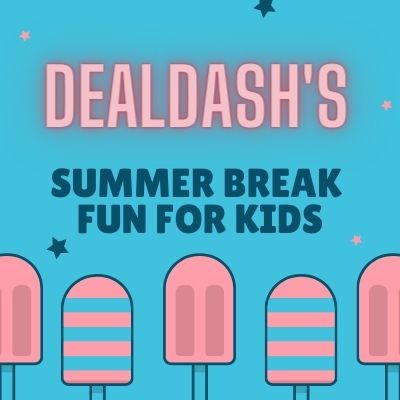 Summer break for school is just about here! Your kids will be bored after the first week, so DealDash has fun suggestions for activities.
Summer break has almost arrived, and it's time to consider what to do with your kids this summer. There are limited options for summer camps this year, even though many have re-opened. Most kid's camps and summer programs are accepting fewer kids this year. DealDash has a few suggestions for you can spend positive time with your kids.
Summer Break Family Swim Club
First, swimming is a very important skill for everyone to learn how to do. Make no mistake, being an Olympic-grade swimmer isn't needed. However, being able to swim from one side of the pool to the other (even if it's slowly) is very important. You never know when you might find yourself falling or being playfully pushed into the water, and being able to swim to safety is a very important skill to have.
Forming a family swim club can help your kids not only learn the basics of swimming but also have fun at the same time. If you are not a strong swimmer yourself, you can find low-cost swimming lessons for both kids and adults at places like The Boys and Girls Club, and the YMCA. Learning to swim as a family can be a fun activity. If your family already knows how to swim, then make a specific time each week so that you can swim together. It will not only be fun, but will improve your kid's swimming skills, as well.
DealDash Has Games for Kids
Next, if your kids are always complaining that they are bored, you should consider getting them some new games to use this summer break. If your kids have already started the chorus of "I'm Borrrrrred!" consider what sorts of games that your children will enjoy using. Don't let this summer break go by without your kids being able to enjoy some outdoor games this year. You can first consider games that involve a little exercise such as badminton, volleyball or even soccer or basketball. However, if you and your kids are not really the athletic sort, try croquet, cornhole, or horseshoes.
If you would like to freshen up your supply of outdoor games, DealDash has toys and games of all sorts. You will find items such as sports equipment, but you can also find family lawn games as well. Browse in the Hobbies, Toys, Outdoors, and Games category and find croquet sets and sports equipment.
Summer Break Snacktime
Finally, one of the best things about summer is the food! Of course, you can eat most foods anytime, but the summer is known for lots of fresh fruit, popsicles, and cooking out on the grill. Here are some quick snack suggestions that are perfect for summer:
Homemade popsicles. You can get molds for popsicles very cheaply – even at the dollar store. You can even make mini-popsicles with your ice cube tray that you already have. Simply take any fruit (or a mixture!) that you like such as strawberries, grapes, blueberries, or raspberries and put them in the blender with enough water to make your mixture easy to pour. Then pour into the molds, and freeze. Delicious, and healthy, they are perfect for snacking.
"Nice" Cream – Nice Cream is a type of vegan ice cream. You can buy it at the grocery store, but it's easy to make at home. Simply freeze a few bananas in the fridge, then blend them up with your favorite flavors. You can add fruit, flavored syrups, or chocolate syrup.
Frozen Grapes – Yes, it's exactly as it sounds. Take the grapes off of their stems, wash, and stick them on a cookie sheet in the freezer. They are perfect to take in a Ziplock bag for a snack on a hot day.
Thanks for Reading
Kids always end up getting bored on summer break. However, with these, suggestions, your family can enjoy some time together this summer. Thanks so much for reading this article.
Your kids will get bored this summer, so keep them entertained with lawn games and sports equipment. Go check DealDash for games, sports sets, and more. Visit now and save. Have a great time and happy bidding everyone!

This sponsored DealDash blog article was written by Dawn E, a mother of 3 who loves DealDash. Dawn was compensated for writing this article. Check out Dawn and her cats on Instagram! This blog is written by real DealDash customers. The opinions and advice shared here represent our customers' views and not those of the company.