DealDash Stays on Schedule This Summer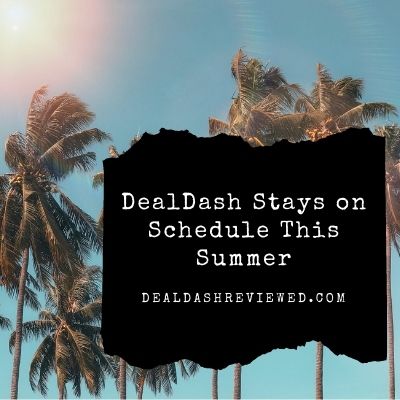 Staying on schedule, even in the summer, is important. It might be a little more difficult, especially if you have kids, but DealDash can help.
For the most part, staying on schedule in the winter is not very hard to do. Most people have work, the kids have school, and the trips, vacations, and spontaneous outings are few and far between. However, in the summer, all of that changes. The kids have three months to be filled with fun and activities, most people take a one or two week vacation, and even more people take a few Fridays off to make long weekends. These tips from DealDash will help you stay on schedule this summer.
Make Plans, Stay on Schedule
To begin with, you should be making and finalizing your summer plans now. You should begin to make a calendar for the family that includes the time when school ends all the way through until it starts again. This way, you can maximize the fun, and plan out all of the activities that you and your family want to do. If you aren't planning on taking an actual vacation, you should still make a family calendar. You can include any long weekends, camping, visiting family, or even schedule a time to do something at home as a family, like a movie night.
Making a summer calendar is the best way to let everyone in the family will know what is coming up. Also, you will be able to see which weeks/weekends have nothing planned, and you can add something in. Even something as small as a trip to the ice cream shop is something that your family can look forward to. If you can't (or don't want to) take a vacation, The Muse has come up with a few ways to recharge and get the most out of your time.
Get Watches and Organizational Supplies on DealDash
Also, how are you going to stay on schedule if you can't keep track of the time? A watch from DealDash is exactly what you need to keep track of the time. Additionally, getting organized can also help you stay on schedule. However, if you aren't sure what sorts of organizational supplies you need, it can get a little overwhelming to figure it out. Here is a quick list of some things you might find handy when getting organized.
Filing cabinet – This will help you keep that clutter of papers off of the kitchen table.
Boxes and Bins – If you have a lot of random objects cluttering your space, it's hard to stay on schedule. Solve this problem with boxes and bins. Assign each box or bin a loose category. You might have one box for bills you have to pay, one bin with extra office supplies, and yet another bin with random items that need to be taken back to their "homes" in other rooms.
Bookshelves – Books look wonderful on a bookshelf, but look like a cluttered mess if they are just scattered around. Get organized, and put those stray books on a bookshelf.
And remember, it doesn't matter if you need a cabinet, bins, or a bookshelf, DealDash has it all. Check out the Home, Garden, and Tools category and you will find some amazing things to organize your home.
Thanks for Reading
Staying on schedule is important, and it's best to maintain your routines over the summer as much as possible. This will make things a lot easier when the summer is over and your family has to get back to school and work. Use these tips, and you will have an easier time at the end of the summer. Thanks so much for reading this DealDash article, and be sure to check back soon for more.
Use these ideas to help you and your family with their schedule. Get organizational items and watches to help. Go check DealDash to see the shelves and bins. Visit now to see how much you can save. Have a great time and happy bidding everyone!
This sponsored DealDash blog article was written by Dawn E, a mother of 3 who loves DealDash. Dawn was compensated for writing this article. Check out Dawn and her cats on Instagram! This blog is written by real DealDash customers. The opinions and advice shared here represent our customers' views and not those of the company.