DealDash Decorates Your Teen's Room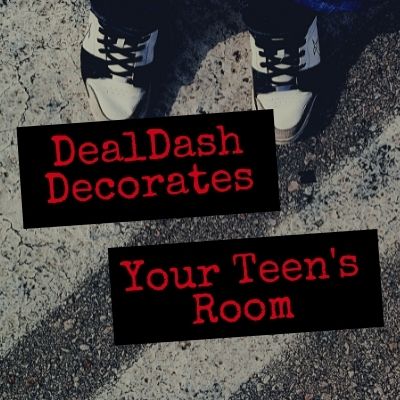 Let's face it – your preteen or teen isn't a baby anymore. It's time to upgrade their room to something more mature. DealDash is here to help you decorate your teen's room.
When your child was little, did you choose everything for their room hoping they would think it was cute and perfect for them? If your preteen or teen would like to upgrade their room and more involved in the decoration of their room, why not let them? Maybe it's time to organize your home, anyway, and find some old toys and clothing to donate. Here are some simple tips to help you create a space that will be more suited as your teen's room. Read these helpful suggestions from DealDash.
Paint Your Teen's Room a New Color
Let's start with the thing that can completely change a room in an instant – the paint! If your teen's room hasn't changed much from when they were a baby or small child, it's painted in a light pastel-type color. While this is a completely valid choice of style, older kids might prefer something more bold. However, this is still your home, and if you don't want a room in your home painted a "shocking" color like black or red, that's fine, too.
Picking out paint samples can be a fun bonding experience, so take your kid to the hardware store, and let them pick out 5 or 6 colors that they think they might like as a bedroom color. Take a look, and see if you can agree to any of them. If you are too far apart in style to be able to agree, offer a compromise. You pick them main color, and let them make the choice of color for an accent wall. You might not want eggplant purple as the color for an entire room of your home, but 3 light gray walls and 1 eggplant purple wall would look lovely, and make both you and the owner of the teen's room happy.
Class Up the Decorations
Next, many older kids like to have music and movie posters and pictures in their room. However, this can end up looking sloppy – but it doesn't have to! If you go to a big arts and crafts store, they have very large frames that are meant to hold poster-sized art. You might think that these are very expensive, but the "lower quality" ones are actually very affordable! I just did a quick search, and you can get a 6-pack of poster-sized frames (24″X36″) for less than $65, which is around $10.50 each. These types of stores typically offer a weekly coupon of 20-30% off, so you can probably get them even cheaper by using a coupon.
House Beautiful has an excellent article with the 17 Best Ideas for a Teen's Room. There are ideas for both masculine and feminine bedrooms, so give it a peek when you get a chance.
DealDash Has Decor for a Teen's Room
Finally, now that you have a sense of how you and your child would like to redecorate the teen's room, you can begin shopping. Since your preteen or teen is older now, they probably want to pick out some of their own decorations from DealDash for you to get them. You will find fun clocks, statues, paintings, and bed sets with sheets and duvet covers.
Thanks for Reading
Thanks for reading the newest blog article. I hope that you found this article on decorating your teen's room interesting. So remember to keep these things in mind when you are looking to re-decorate your teen's room and you will find that the process will go smoothly. As you can see there are some really simple steps that you can take to make your child happy with their bedroom.
If you need home decor items with free shipping DealDash has it! Check out the home items such as comforters, sheets, and towels. Have fun and happy bidding everyone!

This sponsored DealDash blog article was written by Dawn E, a mother of 3 who loves DealDash. Dawn was compensated for writing this article. Check out Dawn and her cats on Instagram! This blog is written by real DealDash customers. The opinions and advice shared here represent our customers' views and not those of the company.