Amazing Gifts for Your Pet from DealDash
Having a pet is like having a furry family member. Spoil your pet with these amazing gifts. Read on for more information from DealDash.
No matter what kind of pet you have, be it a dog, cat, bird, or small furry animal you can always find a great gift for them that they will love. You just have to look around and get into a creative state of mind. Here are some amazing gifts for your pet, curated by DealDash.
Designer Pet Beds
The first place to look for amazing pet gifts is DealDash, of course. DealDash offers the highest quality and most beautiful pet beds around. A pet bed is more than just somewhere for your pet to sleep. It can be a decoration for your home as well. Instead of just a cushion on the floor, why not get a pet bed that compliments your home's aesthetic as well?
If you'd like to check out either of the pet beds above or the other choices on DealDash, just click this link right here and you can browse for your pet's newest comfy bed.
Dog Houses
Now, where I live in Boston, most people keep their dogs inside, especially in the winter. However, I know in more temperate climates, many dogs prefer to be outside a large portion of the day. If you leave your dog outside for more than an hour or so at a time, you should probably have a doghouse outside for him to rest and have some shade. Luckily for you, DealDash has some attractive dog houses that you can bid on in an auction.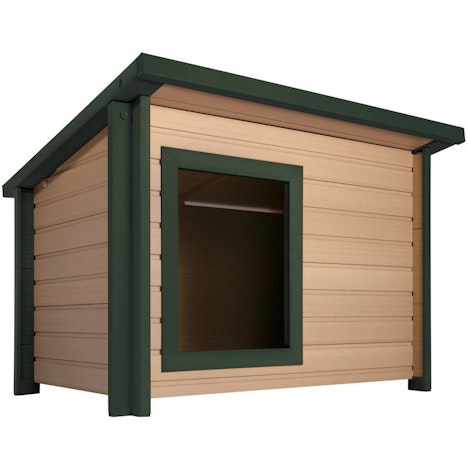 If you'd like to decorate your new dog house, I've seen some amazing designs that people have added on to their dog's house. Check out the picture below for some ideas.
For dog items on DealDash, just click this link. 
Cat Toys
Cats are the most curious and playful creatures around. Reward their jolly nature with some toys that will enhance their life. Luckily, cat toys tend to be fairly inexpensive – you can get a little jingly ball or a soft mouse toy for around a dollar in just about any store that sells pet supplies. If you want to get a little more creative, though, check out the fun toys that I've gotten for my cats.
These round tracks with a ball and a scratching circle in the middle really keep the cats entertained for a while on their own. They serve a dual purpose, as a toy as well as a scratcher to keep their claws in good shape.
This little butterfly toy is my tiny kitten's favorite. It's on a very thin wire, so when it's turned on it flits and bounces around just like a real butterfly does. It's so much fun to watch them play with it. The only drawback, though, is that once they pounce on it and "catch" it, the base tips over and requires human intervention to put it back up again. However, this small inconvenience is worth the fun that my two kitties get out of this toy.
Thanks for Reading
Keep all of these things in mind when you are looking to shop for a great gift for your pet. These pet gifts are fun and entertaining for both you and your pet. Do your pet a favor and get them a gift!
I hope that you found this DealDash article on getting your pet a gift helpful. If you have any tips for pets and their owners please share them below in a comment on this DealDash blog.
DealDash has plenty pet auctions with items for cats and dogs. DealDash has a great selection of pet items. Visit DealDash now to check out the auctions. Have fun on DealDash, and happy bidding everyone!

This sponsored DealDash blog article was written by Dawn E, a mother of 3 who loves DealDash. Dawn was compensated for writing this article. Read even more at DealDashBlog.com, DealDashTips.com, or on her own blog, DawnBlogtopus.