DealDash Summer: Fun Day Trips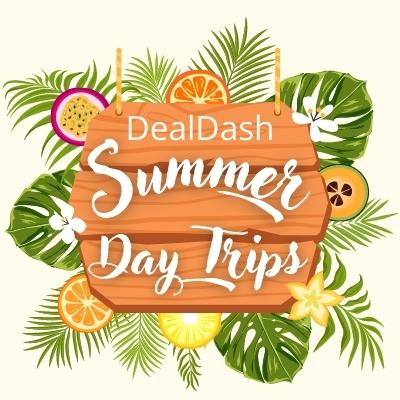 The official first day of summer is June 21st, but it sure feels like summer here! How about your area, are you ready for summer?
The weather is finally getting nicer and that means it's time for some fun day trips! There are so many great places close to home that make for perfect summer getaways. In this blog post, we will explore a few different day trip ideas that you can take with your family this summer. Whether you're looking for a relaxing beach day or an adventure-filled outing, we have you covered! So pack your bags and get ready to explore all that your local area has to offer. Read on for some fun ideas, from DealDash.
Day Trips – Beach or Lake
One great summer day trip idea is to head to the beach or lake! If you live near a body of water, then this is the perfect way to spend a hot summer day. You can pack a picnic lunch and spend the day swimming, sunbathing, and exploring. Don't forget to pack your sunscreen! If you don't have a beach or lake near you, then check out your local swimming pool. You can usually find one at the Boys and Girls Club or the YMCA. Both of these organizations are primarily for
children, but they also have blocks in their schedules for adult and family swim time.
Day Trips – Amusement Park
Another fun option for a summer day trip is to visit a nearby amusement park or water park. This is a great option if you have kids, as they will be sure to love all of the rides and attractions. You can spend the day enjoying all the fun activities that the park has to offer. Be sure to buy your tickets in advance so that you can skip the line!
Amusement park prices can be fairly expensive for food and beverages. Before you go, check their website to see if they allow "outside" food to be brought into the park. Bringing your own picnic lunch and snacks will save you lots of money, especially if you have hungry kids to feed. A cooler with cold packs or ice will keep your food cold for hours, and help you save money at the amusement park.
Day Trips – Hit the Trail
If you're looking for something a little more low-key, then why not consider taking a hike or going for a bike ride? There are many beautiful nature trails close to home that make for perfect summer excursions. Get some fresh air and enjoy the beauty of nature with your family. Hiking doesn't have to be a grueling hours-long trek uphill. There are plenty of trails that are easy to moderate that the whole family can enjoy. Just check the rating before you go, this day trip is perfect for people who don't want to spend a lot of cash to have fun with the family.
DealDash Has the Items You Need for Fun
No matter what kind of day trip you're planning, DealDash has everything that you need to make it a success. From coolers and waterproof dry bags to picnic baskets and hiking gear, DealDash cash you covered. Be sure to check out DealDash before you head out on your next adventure!
Thanks for Reading
These are just a few ideas for fun summer day trips that you can take with your family. Get out there and explore all that your area has to offer! Just be sure to check the weather conditions before you go, that way you will be prepared for anything the summer has in store for you. Thanks so much for reading, I hope that you found this article helpful. Have a great day and happy bidding everyone!
This sponsored DealDash blog article was written by Dawn E, a mother of 3 who loves DealDash. Dawn was compensated for writing this article. Check out Dawn and her cats on Instagram! This blog is written by real DealDash customers. The opinions and advice shared here represent our customers' views and not those of the company.