DealDash Father's Day: Traditional Gifts & New Ideas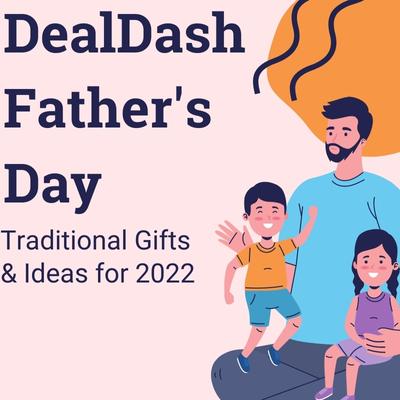 Father's Day is coming up on Sunday, June 19th. Are you ready to spoil your dad?
Father's Day is a time to celebrate the important men in our lives. It is a time to show our dads how much we appreciate them. There are many different ways to celebrate Father's Day, but one of the most popular traditions is giving dad a gift. If you are looking for some ideas about what to give your dad this Father's Day, June 19th, then you have come to the right place! In this blog post, we will discuss some traditional father's day gifts as well as some unique ideas for 2022. Read on for some suggestions from DealDash.
Traditional Father's Day Gifts
One traditional gift for Father's Day is a tie. Ties are always a classic gift for dad, and they come in many different styles. You can find ties to match any type of outfit, and they are always a useful accessory. If your dad is the type of
guy who enjoys wearing ties, then this is definitely the gift for him.
Another traditional gift for dad is a watch. Watches make a great gift because they are both practical and stylish. There are many different types of watches available on the market, so you should be able to find one that your dad will love.
Unique Father's Day Gifts
If your dad is not into traditional Father's Day gifts, why not branch out and get him something unique? One unique gift idea is a monocular or binoculars. These nifty devices are great for dads who like to hunt, golf, bird watch, fish, and many other hobbies.
Another unique Father's Day gift idea is a chess set. Chess is an excellent way to keep the mind sharp and have fun at the same time. Even if dad isn't a champion chess player, no problem! He will be happy to receive a chess set, as long as you promise to play a few rounds with him. If you don't know how to play chess, no problem. The site Chess.com has free lessons and tutorials that you can try.
DealDash Has Traditional and Unique Gifts for Dad
If you are looking for either a traditional or a unique gift for dad this Father's Day, you need to check out the offerings on DealDash. You will find many of the suggestions in this article, including watches, binoculars, and chess sets.
Remember, when you shop on DealDash, you always get fast, free shipping. Additionally, DealDash is having a sale for Father's Day. On June 19th, you will find .12 bids, as well as 4X Time As the Highest Bidder (TAHB), and 90% off your final auction fee. WOW, that's a lot of love for dad!
Thanks for Reading
We hope that this blog post has given you some ideas about what to give your dad for Father's Day. Remember, it is the thought that counts! No matter what you give your dad, he is sure to appreciate it. Speaking of appreciation, thanks so much for reading the blog. Happy Father's Day from all of us here at DealDash! Have a great day, and happy bidding everyone.