DealDash Camera for the Holiday Season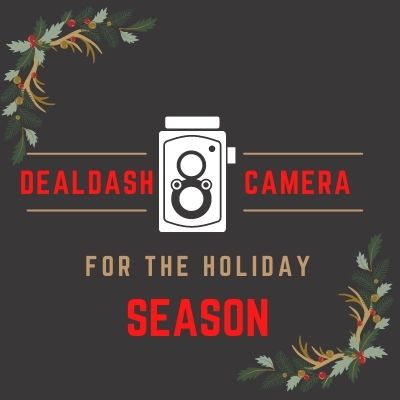 There are so many awesome holidays coming up – Halloween, Thanksgiving, Christmas, and New Year's Eve! It's important to have a good camera to preserve the memories this holiday season.
What's better than a camera at hand during a holiday or event? A thousand words, and an endless supply of memories that are captured forever! There are many cameras on DealDash. Now is the best time to think about getting a new camera to capture the memories of the upcoming holiday season. No matter your budget, there will be a durable and quality camera that fits perfectly in your life. Read this article from DealDash for information on getting a new camera today.
Why Get a New Camera for the Holiday Season?
First, you might be wondering why you need a camera for this upcoming holiday season. "Why get a camera?" you may ask. You have an iPhone/Android, or some other phone that has a great camera. Well, while it's true that most
phones these days have pretty decent picture-taking capabilities, not all of us are satisfied with the quality of the pictures they take.
It may be hard to justify spending money on something that seems unnecessary, but cameras do provide benefits over phones when it comes to taking photos. For example, one reason why you might want to have a DSLR camera instead of a camera phone is that some phones only have a fixed focal length, which means no zoom. You can't zoom in on any part of the picture you're trying to take. Whereas with DSLR cameras you can adjust the angle at which light enters into your lens, allowing greater flexibility when it comes to taking pictures. This reason alone is enough for me, however, if you still don't think that you need an actual camera, you might be interested to know most smartphones do not have manual settings. Manual settings are necessary when you need to take control of your camera, like in low-light conditions or fast action shots.
Additionally, phones also lack the ability to attach professional accessories like flashes, lenses, and external microphones. However, with most newer DSLRs, you can utilize these; giving you the freedom to experiment. While there are many different types of cameras, they all serve the same function; taking pictures. However, not all pictures are equal when it comes to quality, and with smartphones, you're giving up quality when it really matters – you're trying to capture memories, here!
DealDash Has Cameras for the Holiday Season
The good news is that DealDash has a nice selection of cameras up for bid. You will find lower-end digital cameras, high-end DSLR cameras, and even instant cameras up for bid this holiday season. Not only are these cameras good to capture memories, but they also make great Christmas presents, as well.
In addition to taking still pictures, having a "real" camera instead of using your phone is beneficial when making videos. Most phones put a "cap" on the length of video that you can take. Also, a phone typically has less memory space to store longer videos. This is a very important factor to think about when you are trying to preserve your precious memories this holiday season. Although having a good quality camera may seem challenging to purchase, DealDash makes it easy. They have these cameras up for bid often in their auctions, which means anyone can get them at a great price. Really, the thing that you need to think about when bidding on a camera from DealDash is which one you should get. My personal favorite is my DSLR, however, many people prefer an action camera for motion shots and videos. It's up to you to decide.
If you are having trouble deciding which camera to get, that's understandable. However, I have a solution. The website Expert Cameras has an informative article that breaks down the different types of digital cameras. Check out the article, then visit DealDash.
Thanks for Reading
Thank you so much for taking the time out of your day to read the newest DealDash article on cameras. I hope that you found it helpful. It's always nice to have something that separates you from everyone else out there with smartphones, and for your next trip or family gathering, consider breaking out the "real" camera to take some amazing shots!
Which type of camera will you use this holiday season? Check DealDash for items to become a great amateur photographer. You'll find digital DSLR cameras, action cameras, and instant cameras. Visit now and save. Have a great day and happy bidding everyone!
This sponsored DealDash blog article was written by Dawn E, a mother of 3 who loves DealDash. Dawn was compensated for writing this article. Check out Dawn and her cats on Instagram! This blog is written by real DealDash customers. The opinions and advice shared here represent our customers' views and not those of the company.