DealDash Fall Fitness: Outdoor Activities for Autumn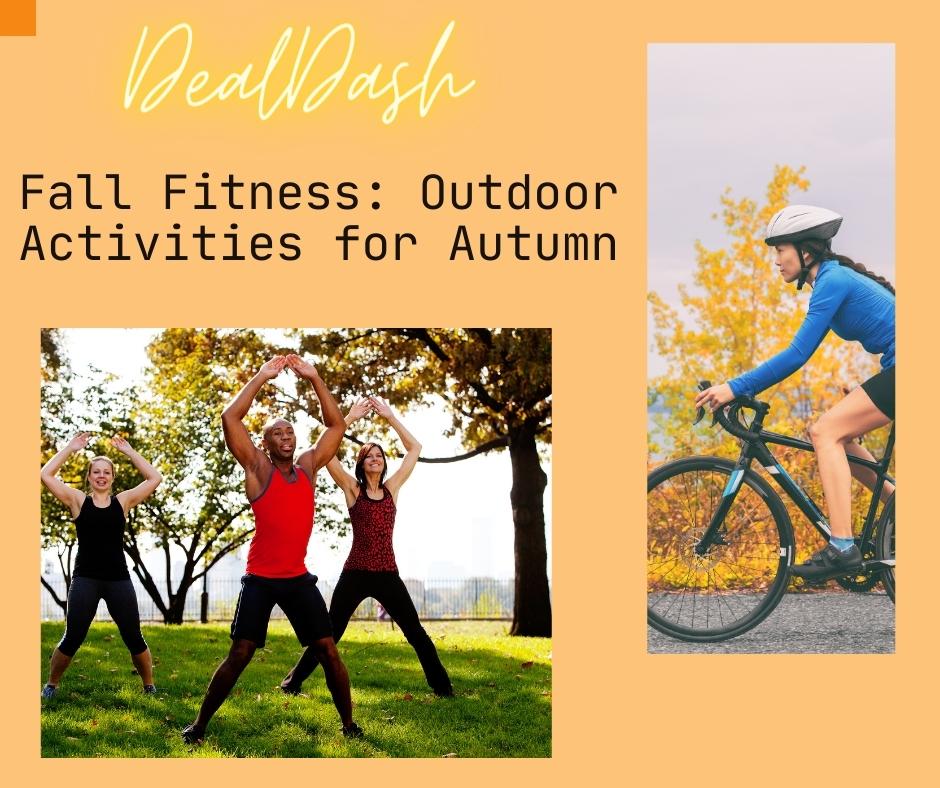 It's the perfect time of year to do outdoor activities – not too cold and not too hot. Now let's go out there and get moving to improve your fitness!
With autumn's arrival, the air turns crisp and reminds me of childhood romps through the leaves. The foliage transforms into a mesmerizing tapestry of gold, orange, and red, perfect for leaf peeping and walks in the woods. The cooling temperatures offer the perfect ambiance for outdoor fitness exercises that not only keep you healthy but also allow you to relish the season's unique beauty. Read this new article from DealDash for some fun ways to get some exercise and enjoy the beauty of the season.
Fall Fitness Ideas
No matter what your fitness level or interest, there is always a way to stay fit in every season. From yoga to running, fall is a wonderful time to enjoy fitness activities outdoors. If you're having trouble getting started, try some of the suggestions below. You're sure to find something that you enjoy.
1. Autumnal Hiking Adventure
Fall's mild climate and breathtaking scenery make it an ideal time for hiking. The trails are often softer underfoot due to fallen leaves, providing a comfortable trekking experience. Immerse yourself in nature's tranquility, absorb the vibrant colors, and breathe in the earthy aroma while boosting your cardiovascular health. This is one of the best ways to get started in your fitness journey. There are trails for all skill levels and abilities.
2. Cycling Through Fall's Canopy
A bike ride under the cascading autumn leaves can be invigorating. Cycling is an excellent low-impact exercise that enhances your leg strength and endurance while minimizing stress on the joints. Opt for scenic routes in parks or trails where trees form a golden canopy overhead, creating a magical, tunnel-like effect.
3. Yoga Amidst Nature's Calm
Taking your yoga practice outdoors during fall adds a refreshing dimension to your routine. The cool breeze and serene surroundings help deepen your breath and focus, enhancing the calming effects of yoga. Opt for parks, gardens, or even your backyard, laying down a mat amidst the foliage for an inspiring session. This activity is great to do either solo or with a friend!
4. Running with a Scenic Backdrop
For runners, fall provides a comfortable temperature range that is neither too hot nor too cold. The softer ground due to fallen leaves also offers some cushioning, reducing the impact on your knees and ankles. Choose routes that run through parks or forests to fully experience the seasonal transition.
5. Canoeing or Kayaking:
Water activities like canoeing and kayaking can be thrilling in the fall. With trees reflecting on the water's surface, these exercises offer a full-body workout, enhancing your strength, flexibility, and endurance. The tranquil waters and the sound of paddles gently splashing create a meditative environment.
6. Group Fitness Boot Camp
Join or organize a fitness boot camp in a local park. These group sessions often include a mix of cardio and strength-training exercises, providing a well-rounded workout. The communal aspect adds a layer of motivation and accountability, making the exercise regimen more enjoyable and effective.
7. Rock Climbing
For those seeking adventure, rock climbing is an exhilarating option. Whether you choose an established outdoor climbing location or an indoor facility with a view, rock climbing engages various muscle groups, improving your strength, balance, and coordination. This suggestion is not for everyone, of course. Please don't push yourself into an activity if your body isn't quite ready for the challenge.
8. Pick-Up Sports Games
Gather friends and family for casual games of soccer, football, or frisbee in the park. Not only do these games encourage cardiovascular health, but they also enhance your agility, strength, and coordination, all while fostering a sense of community and enjoyment. Additionally, you might make a few new friends along the way!
I hope that one of these ideas gets you excited about improving your fitness this season. For other ideas, check out this article from The Today Show to get you started on the path to healthy living this autumn.
DealDash Has Outdoor Clothing for Fall Fitness
You will want some fitness or outdoorsy clothing for most of the above-mentioned activities. The great news is that DealDash has clothing of all types and sizes up for bid. No matter if you are interested in boots, a light jacket, sneakers, or even socks, you will find them regularly offered in auctions. When you win or BIN (Buy It Now) clothing on DealDash, you will always receive fast, free shipping. This is a huge advantage over many other shopping sites where you have to order a certain total before free shipping is offered.
Thanks for Reading
Autumn offers a refreshing and picturesque setting for staying active and getting healthy. Its cool temperatures and stunning views invite you to step outdoors and engage in exercises that nourish your body, mind, and soul. From hiking through autumn-colored woods to practicing yoga in a slight chill, fall is the season to celebrate movement in nature. So, put on those sneakers you won on DealDash, breathe in the crisp air, and let the season of harvest energize your fitness journey! Thanks so much for reading, and happy bidding everyone!
This sponsored DealDash blog article was written by Dawn E, a mother of 3 who loves DealDash. Dawn was compensated for writing this article. Check out Dawn and her cats on Instagram! This blog is written by real DealDash customers. The opinions and advice shared here represent our customers' views and not those of the company.