DealDash Fun Fall Activities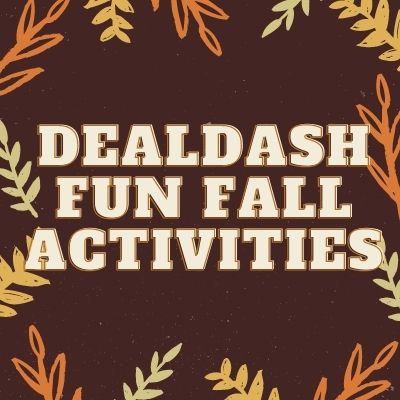 Fall is a wonderful season – my favorite, actually! There are so many things you can do to have a fun fall this year.
Fall is a great time of year for indoor and outdoor activities. In this blog post, we will share some fun things you can do with your family during the fall season. DealDash has many suggestions for activities that are perfect for you and your family. We will be sharing our favorite activities that you can enjoy in the fall weather. So grab your friends and family, and use these ideas this season.
Fun Fall at the Farm
First off, it's just not a fun fall without a trip to the farm! It doesn't matter if you are single, married, kids or no kids – everyone can enjoy a trip this autumn to the farm. There are plenty of fun fall activities that you can do there. One activity is apple picking! Apple orchards also often offer hayrides, u-pick apples (where you pick the apples yourself), and even hot food choices like grilled burgers and cider donuts. You can do these fun fall activities while enjoying
the cooling temperatures in a beautiful rural setting. Many companies have coupons for local farms so be sure to check before heading out on an outing this season. Travel and Leisure Magazine has an article that details some of the best places in the US to go apple picking. Check it out!
Pumpkin Carving – Not Just for Kids
Next, another fun thing to do this time of year is pumpkin carving! It's always nice when the whole family gets involved together to carve pumpkins, however, you don't have to have kids to enjoy this fun fall activity. In fact, I think that in my family, I enjoy pumpkin carving most of all! Once the kids have grown weary of carving their pumpkins, I am delighted to take over for them.
There are some amazing designs for pumpkins online that you can try to emulate. You can even create patterns using stencils you make with a silhouette of an object that you print out at home. Simply tape the stencil onto the pumpkin, do a rough sketch around it with a Sharpie marker, and then get to work with your carving tools!
The Great Outdoors is On DealDash
Lastly, DealDash is the perfect place to find all kinds of outdoor activities and things to do in the fall! DealDash offers hundreds of products that will keep you busy this season. You'll enjoy these deals because we offer free shipping on all items. Here are some fun ideas:
Outdoor Fire Bowl – For those cozy fall evenings
Fishing Rods – Just because the weather is getting cool doesn't mean you have to stop fishing
Sleeping Bags and Tents – If you live in a warmer climate, sometimes the summer is just too hot to go camping
Thanks for Reading the Newest Article
Thank you for reading the new blog on ways to enjoy this fun fall season. I hope it gave you ideas to spend more time doing some of my seasonal favorites this year. Give these activities a try this autumn, you'll be so glad you did. DealDash has everything that you need for all of these fall activities and more!
If you are shopping for outdoor items for this fall, check DealDash first. You will find camping and sports items. Have a great time on DealDash everyone, and happy bidding!
This sponsored DealDash blog article was written by Dawn E, a mother of 3 who loves DealDash. Dawn was compensated for writing this article. Check out Dawn and her cats on Instagram! This blog is written by real DealDash customers. The opinions and advice shared here represent our customers' views and not those of the company.