DealDash Kids: How's School Going?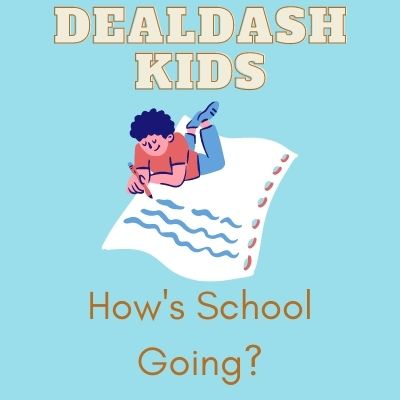 School has been back in session for about a month, now. How are your kids doing and how's school going so far??
As the school bus drives by your house every morning picking up children for another day of academics, this article will provide some tips on how to successfully get your child used to school again. In many places, this past month has been the first time that kids have been back to "in-person" school in over a year. It can be difficult to make the transition from homeschooling to in-person and might be taking longer than usual to get back into the swing of things. Read this article from DealDash for some tips to help your kids with this transition. Hopefully, when the next time someone asks your kids, "How's school going so far?", they can answer, "Great!"
How's School Going, Supply-Wise?
First, everyone knows that "Back to school shopping" typically takes time and money. Unfortunately, most people have a lack of both nowadays. Did you skip anything on the supply list this year? This seems like a no-brainer but lots of
parents skip buying things because they think their kid won't need them or if they do need them they'll just use something else. However, many of these essentials are just that – essential! Talk to your kids about how they are doing at school, and if they are missing any important supplies that were overlooked during back to school shopping.
Also, depending on what grade your kids are in this year, they might need some additional items. For example, my daughter is in 4th grade this year, and this is the first year that they are allowed to join band class. So, not only did I need to buy her a violin, but I also had to purchase other related items such as a violin book, a music stand, and violin accessories.
How's Their Attitude?
Next, you will want to evaluate how your kids are doing mentally and emotionally. In other words, how is school going, attitude-wise? They should be excited to go to school, to learn things, and to see their friends. Praise them for finishing their homework and making good use of their free time after school. If they are struggling, with the work itself or managing their time, you need to give them a little help. Helping them ready with things like packing their lunch bag can be helpful. Also, double-check their homework and be sure it's placed it in their backpack can be very helpful. This is especially helpful for younger kids.
Additionally, remember that if you're doing all these things and still having issues getting your child through this first month of school, there is no shame in hiring a tutor. You can hire an older kid to tutor them after school to help. They can also join a homework club at school or try a tutoring center. It's worth it to do whatever you can so they don't fall behind on their schoolwork. If you are thinking about hiring a tutor, you should check out this article from the site called "The Conversation." It should help you in making your decision.
Let DealDash Help
Finally, if you need a little help getting organized during this first month back to school, DealDash can help. Getting your child organized at home can help with their success. DealDash has many items that you can use in your home office or kid's bedroom to get organized. You will find desks and office chairs, shelves, and bookends to improve any study space. Bid or BIN (Buy It Now) many different items that will help your kids have a great school year.
Thanks for Reading
Kids have been back in school for a month now, be sure that they have an organized workspace. Whether they are in grade two or ten, DealDash has items that will help your children be organized and ready for class. I hope that your kids have a wonderful school year. Thanks so much for reading the newest DealDash article.
Are your kids organized and having a good school year so far? If you need some new things for school such as a desk or a bookshelf, you will find the school and office supplies that you need up for bid. Check them out! Have a great day and happy bidding everyone.
This sponsored DealDash blog article was written by Dawn E, a mother of 3 who loves DealDash. Dawn was compensated for writing this article. Check out Dawn and her cats on Instagram! This blog is written by real DealDash customers. The opinions and advice shared here represent our customers' views and not those of the company.