DealDash Guide to a No Candy Halloween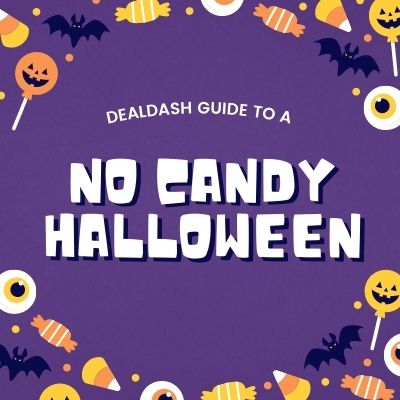 Halloween is upon us, and for many people that means C-A-N-D-Y! However, not everyone agrees.
There are lots of reasons that you might want to avoid (giving or eating) candy on Halloween. For example, you might have a food allergy, gluten intolerance, or diabetes. Alternatively, you might disagree with a holiday that encourages eating so much sugar. No matter what your reasoning, DealDash can help with some fun alternatives for a no candy Halloween. Read on for some suggestions.
No Candy Alternatives for Trick or Treaters
Just to begin with, do you want to partake in Halloween but are determined to avoid candy – any at all? Here are a few ways you can go about making your house a "No Candy Stop" in the neighborhood.
There are many options for giving Trick or Treaters something other than candy, without having your house become a magnet for kids begging to eat your stash of goodies. While it might be fun for some adults to hand out treats that they
personally enjoy, others may find it difficult to keep them safe from all the excited little people who will come knocking on their door. Fortunately, there are several alternatives available if you want to give out more than just candy on Halloween night.
Some great examples include stickers, books, small toys, glow sticks, bubbles, or party favors. Also, consider Halloween pencils with erasers shaped like jack-o'-lantern spooky faces! These are all things that won't cause any harm – albeit maybe a disappointed face from your candy-obsessed visitors.
No Candy for Your Own Kids
Next, maybe it isn't the trick or treaters that you are worried about, but your own kids, instead? For example, in my family, my daughter has a serious allergy to certain food dyes that are common in many hard candies. Therefore, after trick or treating, she has to hand over a good amount of her candy because she is allergic to it. Thankfully, she can still have chocolate! In your family, you might have a diabetic or someone with a peanut allergy. Therefore, you should come up with some alternatives that your child can enjoy if they don't get very much candy.
Fortunately, there are plenty of great no candy alternatives that your child can have on Halloween. Here is a list of three ideas to get you started:
1) Treats from Home – No matter what the health issue is that requires no candy, there are other treats that you can make at home using ingredient substitutes for the offending food. For example, you can bake cookies with no food coloring or sprinkles for a food dye allergy, or use a sugar alternative that your child's doctor has recommended for a no sugar treat. The Colgate toothpaste website has an informative article on some great treats with no sugar.
2) Toys – If your kid is like my daughter, she will play with anything you give her related to the season at hand. Therefore, maybe an action figure or stuffed animal would be a better choice? Lego Minifigures are another good option – they have some really cool Halloween-themed ones. She might not appreciate it when she's trick or treating (she loves candy!) but she'll get plenty of use out of them in the coming weeks.
3) Arts & Crafts Supplies – Does your child draw? They might enjoy some new crayons or colored pencils with a Halloween coloring book. You could even try giving them a tub of Play-Doh along with some fun accessories like Halloween-themed cutters.
DealDash Offers No Candy Kid's Items
Finally, instead of trick or treating, maybe you just want to avoid the whole thing and get your child something else to keep them busy for the whole day. DealDash offers some really cool kid's items that will keep them so busy they won't even mind the no candy Halloween. For younger kids, you will find items like a Kidcraft Wash and Go car garage. For the big kids, you will find scooters and sports equipment. No matter what their age, there is always an awesome item for your kids on DealDash.
Thanks for Reading
I hope that this article gave you some fun ideas to implement for a no candy Halloween this year. Try these ideas if you are looking to avoid candy and sugar this Halloween season. Thanks for reading the newest DealDash article.
Looking for things to get your kid's mind off of sweet treats? Get imaginative toys, video games, and sports equipment from DealDash. Get all of these items and more in the Hobbies, Toys, Outdoors, and Games category today. Have a wonderful day, and have fun on DealDash, everyone!

This sponsored DealDash blog article was written by Dawn E, a mother of 3 who loves DealDash. Dawn was compensated for writing this article. Check out Dawn and her cats on Instagram! This blog is written by real DealDash customers. The opinions and advice shared here represent our customers' views and not those of the company.