DealDash Says Goodbye to Summer: 10 Fun Family Activities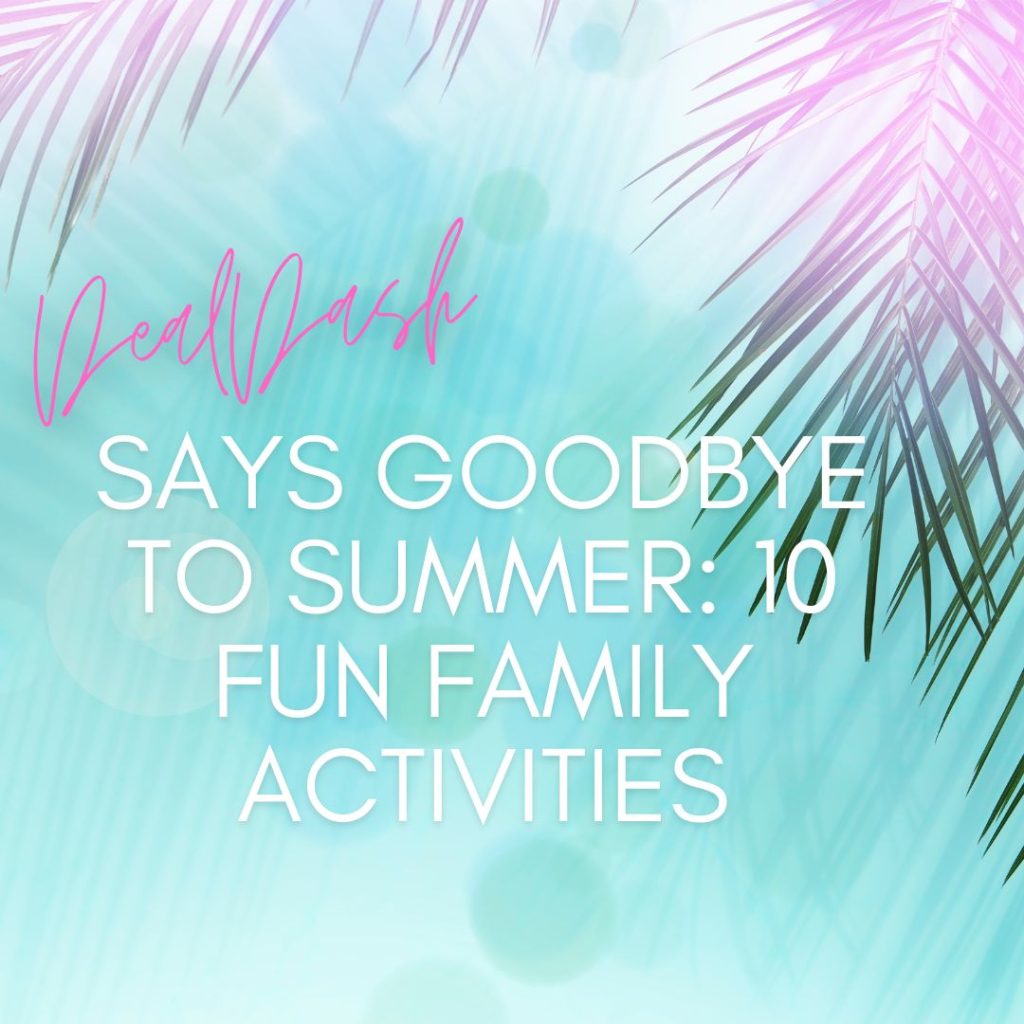 It's sad to think about, but summer is almost over. As we edge closer to the end of August, you will find yourself eager to squish in more summer fun.
Summer is a magical time filled with beach trips, picnics, and late-night stargazing. As the season winds down, it's the perfect opportunity to create lasting memories with your family and celebrate the joys you have experienced this summer. Here are 10 engaging family activities to mark the end of this beautiful season, from DealDash.
1. Host a Family Beach Bonfire
Gather around a crackling fire and roast marshmallows as you reminisce about your favorite summer memories. Whether you tell stories or sing songs, a beach bonfire is a warm and cozy way to say goodbye to your favorite season.
2. Create a Summer Scrapbook
Collect photos, ticket stubs, and other mementos from your summer adventures. Spend an afternoon crafting a scrapbook with your kids. It's not just a fun activity; it's a tangible keepsake of your family's summer. If creating a memory book sounds right up your alley, check out this blog from last week!
3. Plan a Backyard Camping Adventure
Set up tents in your backyard and enjoy a night under the stars. Cook dinner over a campfire, tell ghost stories, and stargaze together. It's the adventure of camping without leaving your home! And bonus – if it starts to rain you can just head back inside.
4. Cook a Family Feast with Seasonal Ingredients
Visit a local farmer's market and choose fresh, seasonal produce to cook a meal as a family. Let everyone contribute to the preparation, cooking, and serving. Enjoy your feast al fresco for that true summer vibe. It's a great way to cap off the season with fresh, healthy food and time spent with your favorite people.
5. Organize a Neighborhood Field Day
Invite neighbors and friends for a day of outdoor games like sack races, relay races, and tug-of-war. It's a great way to foster community spirit and enjoy the last warm days of the season. Don't forget the water balloons and popsicles!
6. Have a Movie Night Under the Stars
Set up a projector and a white sheet in your backyard, grab some popcorn, and enjoy a family movie night outdoors. Pick a summer-themed movie to keep the season's spirit alive. Check out this list of the best summer movies, according to the Parade website.
7. Plant a Memory Tree
Choose a young tree and plant it in your garden as a family. It'll grow and change with the seasons, just like your family, serving as a living memory of this particular summer.
8. Take a Sunset Hike
Find a nearby trail and go on a family hike during the golden hour. The view of the setting sun from a scenic spot can be breathtaking and makes for an unforgettable end-of-summer memory.
9. Build a Sandcastle at the Beach
Take a final trip to the beach and build an elaborate sandcastle together. It's a timeless activity that brings out creativity and teamwork, leaving behind a temporary monument to a wonderful summer. Don't forget to take pictures for your memory book!
10. Write Letters to Future Selves
Have each family member write a letter to their future selves about their summer experiences, dreams, and hopes for the coming year. Seal them and open them next summer for a nostalgic reflection. For even more fun, you can write letters for not just the following summer, but for a time further in the future – say 10 years. Even the smallest members of the family can participate by drawing pictures to put in the envelope.
Stock Up on Fall Essentials From DealDash
Now that we have come to the end of the summer, it's time to stock up on fall essentials. On DealDash, you will find plenty of items that are perfect for the upcoming season. You will find beautiful LED lanterns to make things cozy, lunchboxes for school or work, and even stylish watches to look great at school. These are just a few of the items that are up for bid today on DealDash!
Thanks for Reading
The end of summer doesn't have to be a sad situation; it can be a joyful time filled with love, laughter, and family bonding. By engaging in these activities, you're not just saying goodbye to a season; you're cherishing moments and building memories that will warm you through the colder months ahead. So grab your family, pick a few activities from this list, and make the most of these last summer days.
Be sure to check out the items for fall on DealDash. You will find lots of items for school and work, so check out the new auctions today. Thanks so much for reading, and happy bidding everyone!
This sponsored DealDash blog article was written by Dawn E, a mother of 3 who loves DealDash. Dawn was compensated for writing this article. Check out Dawn and her cats on Instagram! This blog is written by real DealDash customers. The opinions and advice shared here represent our customers' views and not those of the company.