DealDash's Helping Hands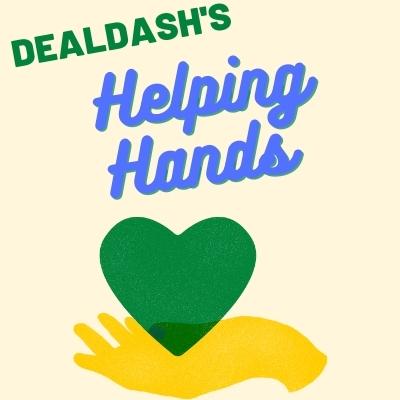 The holiday season is wonderful for most people, but there are some less fortunate people out there. Let's give them a hand.
The holidays are a special time of year. It's the one time of year where it feels like everyone is in a better mood and more generous to those around them. Unfortunately, not all people get the joys of this season because they can't afford to be as generous or happy due to their circumstances. I want to share with you some ways that you can help
make a difference during the holidays. Accomplish this by making donations, volunteering your time, or helping someone who needs assistance during the winter months. Read on for some suggestions from DealDash that you can implement this holiday season.
Helping Hands – Charity for Children
Just for starters, there are several different ways that you can help the less fortunate during the holiday season. For example, there is a charity organization called Samaritan's Purse that does "Operation Christmas Child". This charity puts together boxes filled with items such as toothpaste, soap, socks, etc. to distribute them all across the world. Oftentimes these children would not have access to these things otherwise. You can go to their website and "build" a box to donate, or you can simply donate and they will build the box for you. And rest assured – the Samaritan's Purse charity is rated 95% legit on Charity Navigator. Now that's putting your helping hands to good use!
Another great charity for children is called Toys for Tots. This charity accepts new, unwrapped toys as donations. They collect from individuals, organizations, and retailers all year round. This is to help less fortunate kids have a happy holiday season. You can find your local drop-off location on their website.
Helping Hands – Donate Blood for Charity
Next, one thing that most people don't think about during the holidays is donating blood. I feel that it's a great way to celebrate the season by giving back, and you can save lives in your community at the same time. One donation could potentially help three people!
Of course, not everyone has easy access to a nearby donor center or hospital where they can donate blood so for those of you who do, the American Red Cross is always in need of blood donations. You can make an appointment to donate blood on their website or download their app.
Volunteer at a Soup Kitchen
Next, another great way to help those less fortunate during the holidays is by volunteering your time at a soup kitchen. This will put you in direct contact with people who need your help, and you can provide them with a hot meal and some company. You don't even have to live in a large city to do this – there are likely soup kitchens near you that would love the extra help.
You can find a list of soup kitchens in your area on Volunteer Match or by doing a quick Google search. I suggest calling the organization and letting them know before you show up to see how you can help.
Donate With DealDash
Finally, winter is a difficult time of year for those who are less fortunate. However, there are plenty of ways where we as individuals can make a difference in our communities by donating time or money, giving blood at local donor centers, volunteering with soup kitchens.
You might not have thought of it, but DealDash is actually an excellent place to procure things to donate to the less fortunate. For example, you can often find auctions that have 72, 120, or even 216 pairs of socks! When you win one of these megapacks of socks on DealDash, they provide you with an opportunity to make a generous donation of something that pretty much all homeless shelters agree they need – warm socks!
Thanks for Reading (and Helping the Less Fortunate!)
DealDash has been around since 2009, and we love giving back to our community. That is why we have partnered with a number of different charities throughout the year to help. We hope that through our partnership, more people will be able to donate time, money, or goods this holiday season!
Thanks for reading, and remember – if you have extra bids, why not use them to win something to donate? You will find megapacks of socks, reading glasses, and pens – all of which are excellent items to donate to your local shelter. Have a great day and happy bidding everyone!

This sponsored DealDash blog article was written by Dawn E, a mother of 3 who loves DealDash. Dawn was compensated for writing this article. Check out Dawn and her cats on Instagram! This blog is written by real DealDash customers. The opinions and advice shared here represent our customers' views and not those of the company.