DealDash Toy History – Lite Brite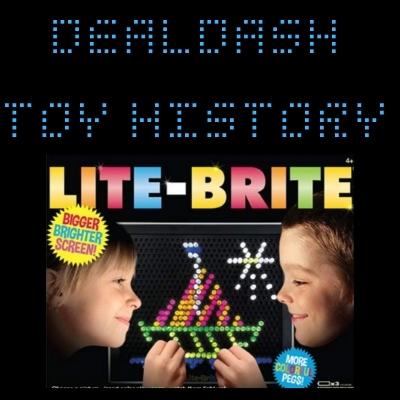 Today we are here with another classic toy! Meet the toy, learn some history, and get ready to play!
You might be surprised to know that some of the toys that you played with as a kid are still being enjoyed by kids today. One of these classic toys is the Lite Brite. I remember playing with this toy as a kid in the 80's, but it was actually invented many years before that. Read on for the interesting history of the Lite Brite, from DealDash.
Lite Brite Lights Up the Night
Just to start with, the Lite Brite was invented in 1967. The inventor of this classic toy was a man named Burt Meyer. Meyer envisioned this new toy with just one light source (a light bulb) and translucent colored peg holes. He created
plastic panels with a matrix of openings and black paper sandwiched between them that could be punctured by the pegs to create designs.
Then, when the box was switched on, the light would shine brightly through the different colored pegs to create multi-colored designs. The prototype was pitched to Merrill Hassenfeld of Hassenfeld Bros., Inc. (Hasbro) who signed a deal within an hour. This fun toy was about to be on its way into hundreds of thousands of children's lives.
In my opinion, one of the best parts about playing with this creative toy was that you could use the paper templates that came with the toy to make their designs, or you could use plain black paper and create your own, also.
Lite Brite Grows Up
Next, like many toys, Lite Brite has had several variations and updates over the years. The very first Lite Brite came with just 12 peg holes and 6 translucent colors. Then, in 1975, Lite Brite got a makeover and was updated with a plastic front panel that lit up, too. It now had a whopping 48 peg holes and 16 different colors to choose from.
In the early 2000's, Hasbro released a Lite Brite that could be connected to a computer. This new version lit up with different colors and designs as you played on the computer. Then, in 2009, Lite Brite was brought back to its original glory with a retro version that included black paper and plastic panels just like the original 1967 model.
DealDash Has Toys and Games for All Ages
Finally, if you are reading about toys, you might be in the market to shop for some, too! If you are interested in classic toys such as the Easy-Bake Oven, or even video games, DealDash has them all.
Also, thanks to DealDash, I am looking forward to sharing some good memories with my kids. We recently got an awesome assortment of toys and games that I bid on, including a Lego set and Snap Circuits!
Thanks for Reading
Today, Lite Brite is still an enjoyable toy for all ages. Though it may not be the same version that you had as a kid, it's still fun to try out different colors and designs on your very own Lite Brite. I hope that you enjoyed reading about its history, and thanks for reading.
If you are ready for some new toys around your house, you will find the toys and games that you want up for bid. Check them out! Have a great day and happy bidding everyone.