DealDash Prepares for Rough Winter Weather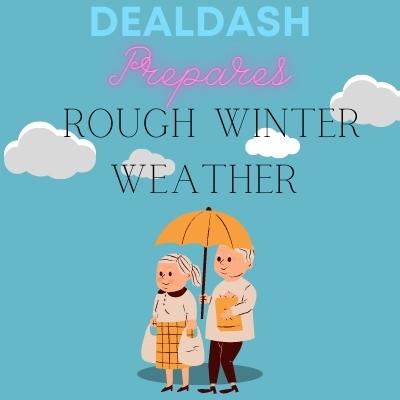 On a serious note, please take a moment to remember the ongoing issues of the victims of the tornado that hit the central and southern USA this past week.
It is always a good idea to be prepared for bad weather, especially in the winter. However, bad weather can hit anywhere at any time, so please be sure that you and your family are prepared. Winter is here in the northern USA, and many of us want to get our houses ready for the snow and ice. Below are some tips to help make your house safe during bad weather, from DealDash.
Check Your Home for Bad Weather Damage
Firstly, before the weather gets really bad, you need to give your home a thorough inspection.
1) Start preparing now by checking if insulation needs replacing or repairing. If needed, purchase supplies like roofing tar paper or cedar shingles before they run out in stores! With all of the recent supply chain issues, be sure to get needed supplies ASAP.
2) Make sure all of your windows have storm shutters installed properly so that they close tightly against strong winds. Storm shutters can reduce damage from hail by up to 95%.
3) Check your gutters regularly to make sure they are clean and free of debris; a clogged gutter can cause water damage to your home.
Create a Bad Weather Emergency Kit
It is always important to have an emergency kit on hand, in case you lose power or have to evacuate.
– Make sure you have at least three days' worth of food and water for each person in your household.
– Have a battery-powered radio and flashlights, as well as extra batteries.
– Make sure you have a first-aid kit stocked with supplies for minor injuries.
– If you have pets, make sure you have enough food and water for them, as well as any necessary medications.
– If you have to evacuate, make sure you take your emergency kit with you. Additionally, you may want to keep an extra emergency kit in your trunk. It won't take up very much space, and it could make a big difference in the event of an emergency.
If you need more guidance in making an emergency kit, the Ready.gov site has an excellent guide to help.
Protect Your Furniture and Appliances from Damage
Bad weather can also cause damage to your furniture and appliances. You can mitigate some of this damage if you do a little preparation beforehand.
– Move any electronics into a safe place, preferably on a higher level of the home.
– If possible, unplug all of your appliances and electronics. This will help protect them from power surges during a storm.
– Place any furniture that is likely to be damaged by water in a safe place, such as the garage on an elevated surface such as wooden pallets, or an upper level of your home.
DealDash Has Furniture if You Need Replacements
Finally, if you need to replace any furniture due to bad weather damage – or just to freshen up your house – DealDash has a wonderful selection. You will find a variety of furniture including chairs, beds and bedding, night tables, and more. Any time that you need a new piece of furniture for your home, be sure to check out the unique selection that DealDash has to offer.
Thanks for Reading
These are just a few tips to help get you started on preparing for bad weather. Be sure to be prepared for rough winter weather to protect your home and family. Thanks for reading the newest blog, and I hope that it gave you some tips that you can incorporate into your emergency plan.
DealDash is the place to go when you need new furniture. Check out all of the choices for office, living room, and bedroom furniture today. Have a great day, and happy bidding, everyone!
This sponsored DealDash blog article was written by Dawn E, a mother of 3 who loves DealDash. Dawn was compensated for writing this article. Check out Dawn and her cats on Instagram! This blog is written by real DealDash customers. The opinions and advice shared here represent our customers' views and not those of the company.