DealDash History of the Rubik's Cube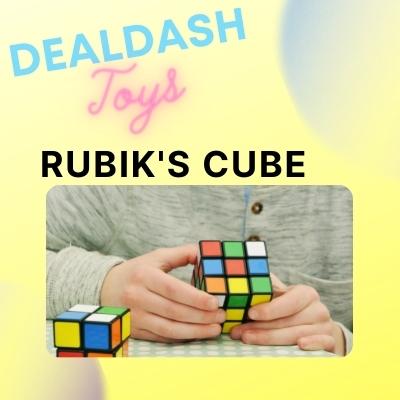 It's time for another DealDash toy history article. Today we will discuss the Rubik's Cube in detail – you're sure to learn a few new facts!
The Rubik's cube has been around for more than 40 years, but what is the story behind this puzzle? Who invented it? Why did they invent it? What made it so popular in the 1980s and 1990s that stores couldn't keep them on their shelves? And how does this 3D puzzle toy compare to other puzzles like the tangram or children's jigsaw puzzles? Let us take a look at these questions and more as we explore a brief history of the Rubik's Cube. Read on for some fun and interesting toy facts from DealDash.
The Rubik's Cube in the Past
Just to start with, firstly, let's get into the history of the famed cube. Ernő Rubik, the inventor of the famed cube, was born in Hungary in 1944. In 1974, while attending university, Erno came up with the idea for a cube that could be
rotated on all six sides and could be rearranged to look like a three-dimensional cube again. The toy he came up with was originally called the Magic Cube and it took him more than two years to perfect his design. In 1977, Rubik patented the cube and named it after himself.
In 1979, the Rubik's Cube made its debut at the toy fair in Nuremberg, Germany. It was an instant hit and quickly became a worldwide phenomenon. However, it wasn't until 1980 that the cube really took off when Ideal Toys began mass-producing the toy. By 1981, over 100 million cubes had been sold and by 2000 that number had increased to 350 million.
The Rubik's Cube in the Present
Today, over 400 million cubes have been sold making it one of the best-selling toys of all time. The cube can be found in toy stores and online retailers all around the world. It is still popular with children and adults alike and has even spawned competitions and speedcubing groups.
Personally, I have only been able to solve one side at a time. However, my husband can complete the entire cube fairly quickly. Let us know in the comments if you have ever been able to solve a Rubik's Cube!
As I mentioned earlier, the Rubik's Cube originated in Hungary. The Culture Trip site has an article with some other amazing inventions from this interesting country.
DealDash Has Toys for Kids of All Ages
Finally, if you are still searching for the perfect present for a child in your life, be sure to check out DealDash. We have toys for kids of all ages, including board and video games, stuffed animals, and more! Plus, free shipping is included on all orders. So head on over to DealDash and start shopping today!
Thanks for Reading
Thanks for reading our blog post today about the Rubik's Cube and its history. If you liked this article, please be sure to check back each week! This way you can stay up-to-date with new toy articles and other fun gift-giving ideas!
We hope that we have given you some good information here about the famed cube—and if you are looking for a present for a child, be sure to check out DealDash. We have toys and games for children of all ages! Plus, free shipping is always included on orders from our website. Happy shopping!