DealDash Helps: Boost Productivity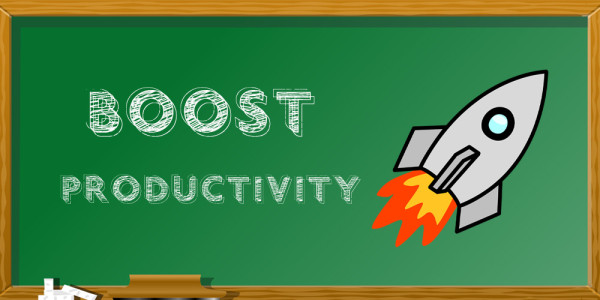 Boosting productivity can take some effort but is worth it in the end. Here are some tips and ideas from DealDash to get started.
You may or may not be thinking of your productivity during your day, but believe me, it will help. Boosting your productivity can not only make your work, chores, and other tasks go more smoothly, but it can also make your day go more smoothly and take a little bit of stress away. When you first strive to boost your productivity you might run into a few roadblocks. Don't worry, DealDash is here to help guide you. Read on for more information.
Prepare for the Week Ahead
Most people take it easy on the weekends and do as little as possible unless it's fun. This makes for a great weekend but a harder work week. If you just take a few hours out of your weekend to prepare for the week ahead then you will enjoy the work week a little more than before.
For example, many people like to do meal prep in advance. This can take a few hours, depending on what you are preparing. However, if you can prepare food for your weekdays so you don't have to do it after work you will have such a better week. I recommend that you make a few pans of lasagna on the weekend. You can cut them into single serve portions and freeze them. Whenever you want some delicious homemade lasagna all you have to do is reheat it in the microwave or toaster oven. There are many other meals that you can prepare on the weekend that will make your dinners during the week a lot easier.
Lists, Lists, and More Lists
I will admit, I am a HUGE fan of lists. I love to make all types of lists: to-do, grocery,  ideas, anything! Making lists can help you learn how to prioritize things. If you make a list of all of the things that you should get done today, then put them in order of importance. Once you get the important things done then you can work on the less-important things. Lists are important because they can help you plan things out to be more productive than you would be by just thinking of what you need to do.
Put Down the Phone
One of the biggest offenders in stealing your productivity is your phone. All of the text alerts, notifications from apps, FaceBook alerts, and everything else makes you pick up your phone far too often when you are trying to get things done. If you have made a list like I suggested previously, and are checking things off as you go, then you can reward yourself with phone time after you have completed the most important items. Until you have your items completed, then your phone needs to stay out of sight. Trust me, it's hard at first, but you'll get used to it, and complete your tasks even faster.
Thanks For Reading
Boosting productivity can be challenging, but luckily, DealDash is here to help. Thanks for reading the newest DealDash article. Come back to DealDash Reviewed every day for new articles on this blog as well as on our sister blog, DealDash Tips. If you have any requests for specific articles, please write a comment down below.
Need office supplies? Check DealDash first. DealDash has many items to help you be productive. Visit DealDash now. DealDash wants to help you. Good luck and happy bidding everyone!
This sponsored DealDash blog article was written by Dawn E, a mother of 3 who loves DealDash. Dawn was compensated for writing this article. Read even more at DealDashBlog.com, DealDashTips.com, or on her own blog, DawnBlogtopus.