DealDash Home Office: Update Your Space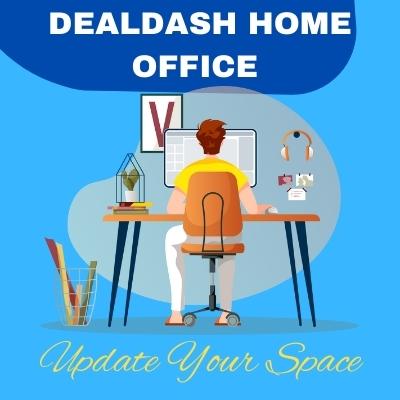 Many of us have been working from home, so it's time to upgrade your home office. It's not hard, give it a try this weekend!
Are you looking for ways to make your home office more updated and professional? If so, this article is going to make your day! In this blog post, we will discuss some tips that will help you create a space that is both functional and stylish. Whether you are working from home or just need a place to pay bills and balance your checkbook, these tips from DealDash will help you get the most out of your home office. So let's get started!
Home Office Space
The first thing you need to do is decide where your home office will be. If you're working from home, it may be tempting
to just set up shop in your living room or bedroom. However, this isn't always ideal because these spaces are often too noisy and filled with distractions like TVs and other electronics. Instead, select a space that allows for quiet concentration such as an office in your guest bedroom or even inside a walk-in closet.
If space is limited, consider setting up a desk in the corner or against a wall. You can also get creative by using shelves and hanging file cabinets above your workspace for increased storage capacity. If there's room, put on some comfortable seating like an armchair or a cozy couch and designate an area for guests to sit when they visit.
If you're still setting up your home office, I have an article that you can read that will help. The Computerworld site has an excellent article on how to get your office set up optimally to work from home. Check it out.
Got Your Home Office Already? Let's Decorate Using DealDash
Next, now that you have a space set up for your home office, it's time to decorate! If you already have your "bare bones" office that you have been using, let's personalize it. Add some pictures, plants, or other decorations to make it feel like your own. Plants are great because they also help to cleanse the air that you breathe. If possible, get a plant or two for your home office! If you are a known plant killer, just get a cactus or jade plant – they thrive on being neglected! You can really let your personality show through by selecting a really cool planter or even getting a plain one and painting it yourself.
Another way to add personality to your home office is by using accessories. Desk lamps, wastebaskets, and bookshelves are all great ways to inject some life into your workspace while still keeping it functional. Adding some beautiful art to your wall is highly recommended. And don't forget about color! A pop of color can really brighten up a room. Try using wallpaper to make an accent wall.
Want to hear the great news? DealDash can help with all of these suggestions, except for the live plants! You will find some absolutely gorgeous artwork and sculptures. You will also find lamps, bookshelves, and wall shelves. So
Thanks for Reading the
Thanks so much for reading the newest article. Now you know some great tips for starting, upgrading, and updating your home office. Dealdash can help with the decorating aspect of it, so go check out the auctions today! Visit DealDash now to see how much you can save on furniture, artwork, shelving, and more. Have a good time and happy bidding everyone!
This sponsored DealDash blog article was written by Dawn E, a mother of 3 who loves DealDash. Dawn was compensated for writing this article. Check out Dawn and her cats on Instagram! This blog is written by real DealDash customers. The opinions and advice shared here represent our customers' views and not those of the company.