DealDash Kids: Teaching Healthy Habits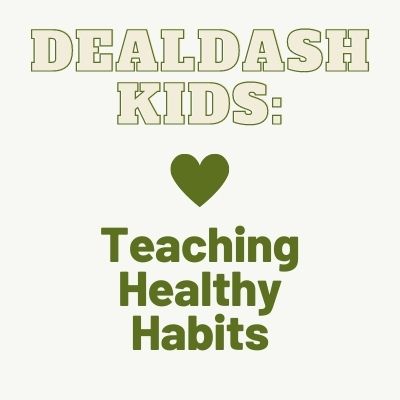 Everyone wants their kids to grow up to healthy adults. Teaching them healthy habits when they are young is a great start.
No one wants their kids to grow up to be unhealthy. Teaching your kids healthy habits will help them become healthier adults. Remember, you are your kid's greatest source of inspiration, even if they would never admit it! Here are some suggestions from DealDash when you are looking impart healthy habits into your children for the good of their future.
Make Drinking Water a Healthy Habit
Just for starters, a very healthy habit to help your children develop is the love of drinking water. Water makes up about 60% of the human body, we it needs to be replenished often so your body processes will go more smoothly. Your kids might not care about this while they are young, but water is essential for healthy, non-dehydrated skin. Being dehydrated is not just bad for your skin, it can also cause lethargy and sluggishness, as well. For active kids who love to go outside and play, or love to play sports, this will help them be their most active selves. When you make water the most common drink for your kids to drink, it will definitely benefit them in the long run. If you would like to learn more about the benefits of drinking water, Medical News Today has a great article for you to read with 15 Benefits.
A Love of the Outdoors
Next, another healthy habit to encourage your kids to have is a love of the outdoors. As a mom, I know that kids are more likely to want to play on their ipads or with video games. Personally, I think that electronics in moderation are a great thing! However, in addition to games and videos, it's also important to make sure they get outside and play every day, as well. Some kids naturally like to go out and ride their bikes, play, explore, and have adventures outside.
However, not all kids are as keen on the outdoors – I know I wasn't as a kid! For more reluctant kids, you might have to do a little compromising and encouraging. For example, my daughter, who is 9, is not the biggest fan of playing outside. However, she loves to draw and color, and create craft projects. So for her, I let her do the messiest projects outdoors that I normally wouldn't want to have to clean up after inside. And surprisingly, nine times out of ten, after she does her messy craft project outside, she ends up wanting to ride her bike or scooter. Other times, she just wants to go inside after, and that's okay, too. I wouldn't want to try to force her to spend more time outdoors if she really didn't want to – that is a power struggle I am just not interested in! As long as she got a little bit of fresh air and sunshine, I count that as a success.
Family Time Exercising – DealDash Can Help
Finally, the last healthy habit that I would like to suggest today, is to exercise as a family. Children are smart – they know when you are trying to get them to do something that you aren't willing to do yourself. So, to combat that, find an activity for the whole family that incorporates at least a little exercise. A family game of kickball or basketball is a great way to incorporate family into fun exercising. However, if your family is very reluctant, why not try some lawn games instead? Games like badminton and croquet might not seem like they are exercise, but all of that running/walking around and swinging the racket/mallet is definitely a form of exercise.
The first step to exercising as a family is to have the right equipment. The Hobbies, Toys, Games, and Outdoors category on DealDash is the perfect place to begin your search for some family exercise fun. While you are browsing, look for fun items such as ping pong tables, pool tabes, bikes, and sports equipment.
Thanks for Reading
This is really just the beginning of simple things that you can do to help your children develop healthy habits. Thanks so much for reading this DealDash article on children and healthy habits.
Do you need exercise items? Go check DealDash for outdoor games and sports auctions. You will find lots of things to make your family exercise time fun for everyone. Visit DealDash now to see how much you can save. Have a great time and happy bidding everyone!
This sponsored DealDash blog article was written by Dawn E, a mother of 3 who loves DealDash. Dawn was compensated for writing this article. Check out Dawn and her cats on Instagram! This blog is written by real DealDash customers. The opinions and advice shared here represent our customers' views and not those of the company.