Your pantry stock should change with the seasons.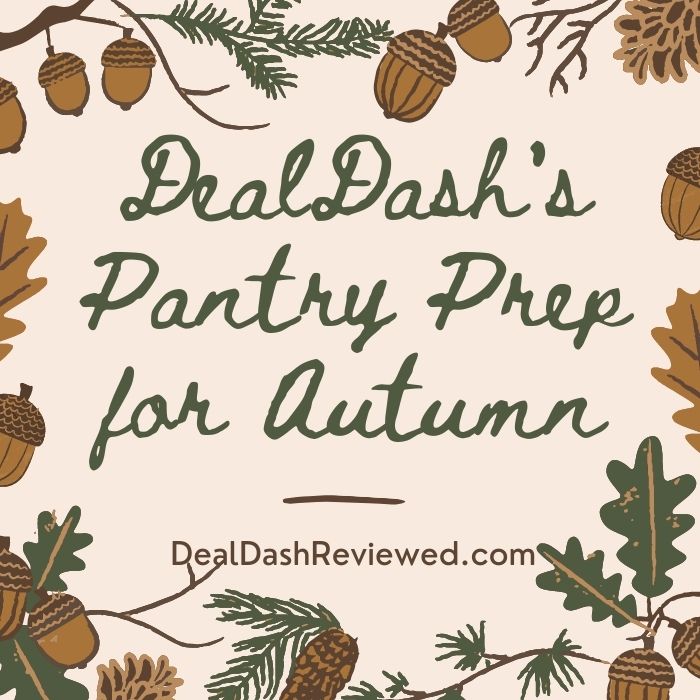 Today we are going to talk about pantry prep during Autumn. Read on for helpful information from DealDash.
We are now in November, firmly planted in the season of autumn. Do you still have your pantry items from the summer lingering in your pantry? Let's get organized, and make sure that your pantry is stocked with fall staples. Read on for tips, tricks, and information on pantry prep.
Purge and Prep Your Pantry
The very first thing that you will want to do when you prep your pantry is to purge the old stuff! This might sound like a lot of work, but to start you need to take everything out of your pantry. Look at each item and set aside the items that are either expired or that your family doesn't like. You can throw out the expired items and donate the new and unopened items to a food pantry or food drive. You should be left with things that your family likes that are still within their sell-by date. Keep a clean towel and a Sharpie with you, and wipe down the dust from each container and write the expiration date in a place that's easy to see. Don't put away your items yet, though, just set them aside.
Pantry Prep List
Next, figure out exactly what you need to restock in your pantry, and what autumn items you would like to add. For instance, are you low on cinnamon? Flour? Cardamom? Yeast? Make a shopping list and add your restock items as well as the new items you need to prep your pantry. The Edible Pantry has a great article on the items you should keep stocked in your pantry for autumn. Check out the article on The Edible Pantry and take notes for your shopping list.
After making your shopping list, buy your items, and shelve them in your pantry. Be sure to write the expiration dates on them in a visible area. Then, put your oldest items at the front so you will grab those first.
Get Autumn Cooking Supplies on DealDash
Now that your pantry prep has been completed, you should take a quick glance at your kitchen tools. Are any of them getting ragged and run-down? Don't fret, DealDash can help. You will find pans and lids, cutting boards, cutlery, and small appliances on DealDash. No matter what kitchen tool you need to replace, you should always check the Kitchen and Dining Category first.
Thanks for Reading
Thanks so much for checking out this article on tips and ideas for pantry prep in autumn. Do you need kitchen items? You will find knives, pans, stand mixers, and more on DealDash. Have a great time and happy bidding everyone!

This sponsored DealDash blog article was written by Dawn E, a mother of 3 who loves DealDash. Dawn was compensated for writing this article. Check out Dawn and her cats on Instagram! This blog is written by real DealDash customers. The opinions and advice shared here represent our customers' views and not those of the company.