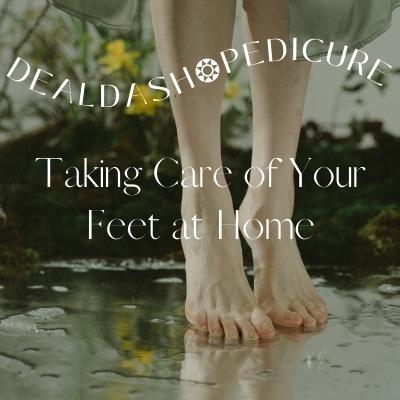 Your feet deserve some TLC. Give yourself a spa pedicure at home and your feet will thank you.
Your feet are one of the most important parts of your body, and they deserve to be taken care of properly. A home pedicure is a great way to do just that! In this blog post, we will discuss how to take care of your feet at home with a few simple accessories. We will also provide tips on how to keep your feet looking their best all year round! Read on for some tips for taking care of your feet at home with these suggestions from DealDash.
Soak Your Feet to Begin Your Pedicure
For starters, the first step in any pedicure is to soak the feet. You can do this by filling a tub or basin with warm water, Epsom salt, and some essential oils if you want. Soak for about 20 minutes, then remove from the water and gently pat dry with a
towel (don't rub).
Remove Dead Skin
Next, it's a good time to remove any dead skin on your feet. You can do this by using a pumice stone or foot file. Gently rub the stone or file in circles over the entire surface of your feet, paying special attention to the heels and balls of the feet. Be careful not to scrub too hard, as you don't want to damage your skin.
Apply a Foot Cream
After removing the dead skin, apply a foot cream or lotion to your feet. This will help keep them hydrated and moisturized. You can find many different types of foot creams at your local drugstore or department store. Choose one that best suits your needs.
Polish Your Toes (Optional)
Once you have massaged the cream into your feet, it is time to polish your toes – if you want! Since you have just applied lotion to your feet, you will want to begin by putting some nail polish remover on a cotton ball and gently wiping off the lotion and any old polish. Once this is done, apply 2 coats of your favorite color of nail polish, then a clear coat, and let it dry for about 20 minutes. Then, finish up by putting on some socks to protect your polish from getting scratched or damaged. For the first few hours after you polish your nails, be gentle with them. They are still able to be scratched, dented, or damaged.
Need more pedicure tips? Oprah Daily has a great article to help. Check out their article on how to do a DIY pedicure at home.
DealDash Has Beauty, Pedicure, and Spa Items
Finally, if you are looking for spa items to use at home, DealDash has many different types to choose from. This includes one of my favorite items ever – a shiatsu foot massager! Additionally, you will find spa-quality towels and bathrobes. You can find all of these items and more by browsing through our health and beauty category.
Thanks for Reading!
We hope you found this blog post helpful. If you did, please share it with your friends and family on social media. And be sure to check out DealDash for all of your health and beauty needs! We have many different items to choose from, including foot and back massagers, bathrobes, scales, and more. Thanks for reading, and happy bidding everyone!
This sponsored DealDash blog article was written by Dawn E, a mother of 3 who loves DealDash. Dawn was compensated for writing this article. Check out Dawn and her cats on Instagram! This blog is written by real DealDash customers. The opinions and advice shared here represent our customers' views and not those of the company.