DealDash Summertime Food Fest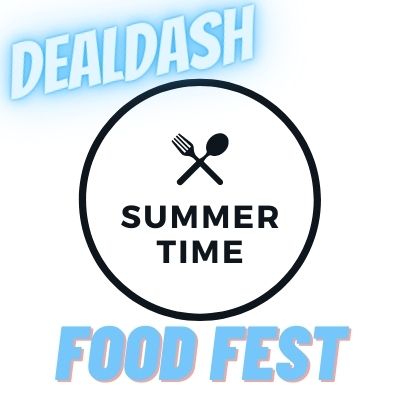 Summertime is a great time to enjoy some delicious food and save money on the grocery bill. DealDash has some yummy recipes for this summer that are easy to make, healthy, and inexpensive!
You know it's summertime when you start to see people wearing shorts, sandals, and sunglasses. It's also the time of year for picnics, pool parties, and trips to the beach! As a mom who loves cooking delicious food for my family, I've found some recipes perfect for these hot summer days. Check out my blog post below a few recipes that will help you cool off in style this summer season! Read on for some recipes from DealDash.
Fruity Food Fest
Firstly, while the summer season is usually associated with fun in the sun, hot weather can quickly take a toll on our bodies. However, I've got plenty of recipes that will help keep you cool and satisfied this summer! Check out my ideas below for some refreshing fruity ideas to satisfy your cravings this summer.
-Fruit Skewers with Yogurt Sauce – This recipe is not only simple but healthy too. In just minutes you can whip up this easy snack or appetizer that your kids are sure to love! Simply take skewers – wooden or plastic – and put on chunks of your favorite fruits such as strawberries, blueberries, bananas, melons, and kiwis. To make the sauce, simply combine approximately a cup to a cup and a half of greek yogurt with a quarter of a cup of honey.
-Strawberry Popsicles: This popsicle recipe will cool you down and satisfy your sweet tooth. For these delightful popsicles, all you need to do is blend up some fresh strawberries with a splash of apple juice in the blender. Pour the mixture into popsicle molds, and enjoy this yummy and healthy summer treat.
Food Fest Tasty Meals
Next, is working on your swimsuit body a priority for you? We'll be spending more time in our swimsuits and less time hiding under heavy clothes this month. Eating healthy can be tough to do, but there are plenty of great recipes out there for cooking up fresh foods that will keep you feeling light and full. Try these tasty food fest meals today.
-Chicken Salad Stuffed Avocados: Scoop out avocados, leaving a small border. Dice avocado and set aside. Make the chicken salad: In a large bowl, mix together chicken (2 cups shredded), red onion (1/4 cup minced), mayo (1/3 cup), and Dijon mustard (1 teaspoon). Fold in diced avocado. Season with salt and pepper. Divide the chicken salad among 4 avocado halves.
-Vietnamese Noodle Salad: This noodle salad can be made in many different ways – the most important part of this salad are the noodles. You can use a couple of different types depending on what you have available at your local store. Use Asian vermicelli noodles such as rice stick or mung bean noodles. To cook these noodles, you just need to pour boiling water over them, let sit 3-5 minutes (look on package for exact time), then drain. After that, you can use any combination of the below items to make a wonderful noodle salad.
shredded lettuce
shredded red or green cabbage
diced red onion
slivered red, oranges, or yellow bell pepper
shelled edamame
Thai basil, globe basil, or mint
You can also serve this salad with grilled meat, seafood, or chicken to make a complete meal or you can keep it vegetarian for a healthy option.
Additionally, the site Love and Lemons has a great article with tons of recipes that are just perfect for summer dinners. Check out the article, and get cooking!
DealDash Helps You Cook for Your Food Fest
Finally, we all know that enjoying your time in the kitchen can be hard if you don't have the right equipment. However, if you are lacking kitchen items such as an enamelled cast iron pot, stainless steel pot, or food processor, you will be delighted to know that DealDash has them! If you are ready for a new kitchen item, browse in the Kitchen and Dining category to find something you will love.
Thanks for Reading
So you see, there are lots of wonderful summer foods that you can make for your delicious food fest this season. I hope that this article has given you some good tips on a few new recipes to try this summer. Thanks for reading the newest blog article.
In conclusion, if you need any new kitchen items with free shipping, DealDash can help. Check out the new items in the Kitchen and Dining category today. Have fun on DealDash, and happy bidding everyone!
This sponsored DealDash blog article was written by Dawn E, a mother of 3 who loves DealDash. Dawn was compensated for writing this article. Check out Dawn and her cats on Instagram! This blog is written by real DealDash customers. The opinions and advice shared here represent our customers' views and not those of the company.