DealDash Kids: Summer Reading Skills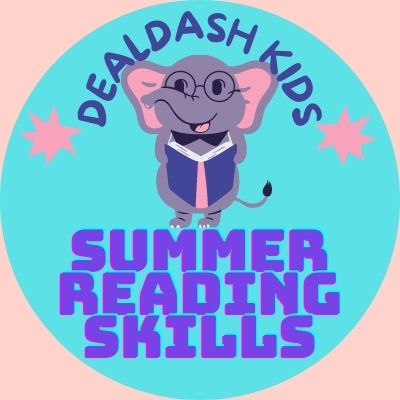 Don't let your kids lose their reading skills this summer. DealDash has some suggestions to help with this problem.
Most kids have been on summer vacation for a few weeks now. In the beginning, it was fine for them to take a nice break from schoolwork. However, if your kids haven't been doing very much (or any!) reading so far on summer vacation, now is the perfect time to start. Here are some ideas to get them started, from DealDash.
Enjoyment = Good Reading Skills
To start with, I think we can all agree that most people are better at things that they enjoy. So don't make your kids dread reading! And really, who wants to read about things they aren't interested in? To combat reading fatigue and
boredom, let your kids choose their own books, within reason. If your kids aren't sure what kinds of books they would like to read, the library is a great place to begin. Most libraries have opened back up – but if yours hasn't yet, many offer free e-books through their websites. No matter if on the screen or paper, all books can help your child's reading skills.
If you have a younger child, you can ask them what they would like to read about and choose a variety for them. For your older children, let them roam around and choose for themselves. When your child gets to choose exactly what they want to read they will enjoy the experience, and additionally, gain valuable reading skills at the same time.
Not Sure What Books to Choose?
Next, if your child just has no idea whatsoever which book to pick. they might need a little extra help deciding. However, if you aren't well-versed in children's literature, you might not know, either! Here is a shortlist of books and series that are either well known and loved, or fairly new and popular that will help with their reading skills.
For Preschoolers
Penguin Bedtime Classlics – This series includes well-beloved stories such as The Three Little Pigs and Jack and the Beanstalk
The Llama Llama Series – If your child likes fun rhyming stories they will love the Llama Llama books.
Todd Parr books – Todd Parr has written cute, reassuring stories that are adorably illustrated.
For Elementary Age
Pete the Cat – This series is fun for younger elementary age kids. There are various stories about a cool cat named Pete.
Berenstain Bears – This is a book series that I loved when I was a child, and my kids love them, too. There are so many books that cover important topics such as going to school for the first time, losing a tooth, and being honest.
Roald Dahl books – For older Elementary students, you can't go wrong with books by Roald Dahl. These include classics such as Charlie And The Chocolate Factory, James And The Giant Peach, and The BFG (Big Friendly Giant).
For Middle School Age
The Last Kids on Earth series – This series follows a kid named Jack and his friends – who are the only kids left on earth. Also, there are also every middle school kid's favorite – zombies – in this fun series!
Let's face it – Middle schoolers are hard to decipher. However, Read Brightly has written a quick article to help, with 10 book series that your child might enjoy.
DealDash Helps Organize the Books
Finally, do you need a bookshelf that is dedicated to your kid's books? Having the bulk of their books in the same place will make them more willing to pick a book. Digging through a shelf of adult's books or searching all over the house for their book can make reading feel like a chore. So if you don't have a bookshelf for your kids, it's time to get one from DealDash. You can find bookshelves and other cabinets and shelving items in the Home, Garden, and Tools category.
Thanks for Reading
I appreciate you taking the time to read this article on helping your kids gain reading skills this summer. Follow these ideas and your kids will enjoy their time reading this summer, and also gain valuable reading skills.
You can get bookcases and shelving for kids on DealDash. Browse the Home, Garden, and Tools category for options. Visit to see how much you can save. Thanks for reading and happy bidding everyone!
This sponsored DealDash blog article was written by Dawn E, a mother of 3 who loves DealDash. Dawn was compensated for writing this article. Check out Dawn and her cats on Instagram! This blog is written by real DealDash customers. The opinions and advice shared here represent our customers' views and not those of the company.