DealDash Kids: Outdoor & Indoor Summer Activities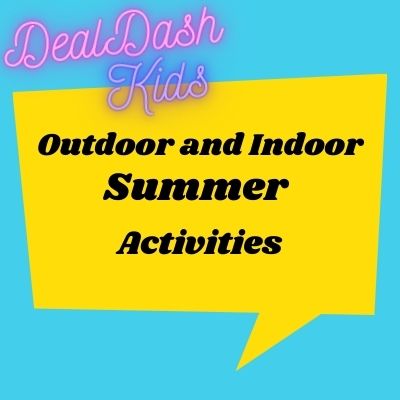 Summer is in full swing, and your kids have probably been out of school for a month or so now. They are probably bored right now, so DealDash is here to help with some fun outdoor and indoor summer activities.
It's summertime and kids are out of school! What do you do with them? Here is a list of summer activities to keep kids entertained this July. There are fun things for kids to do outside when it's hot, as well as stuff they can do indoors on their summer vacation from school. These activities will have your kids begging for more time off from school so they can enjoy the sun! Read on for some more information from DealDash.
Fun Outdoor Summer Activities
It's so important that kids have fun this summer – they need it after all the studying they've done during the school year. To begin with, we will start with some exciting outdoor summer activities to get your kids excited to play.
– Hiking: kids get to explore nature and experience different landscapes in a way that they may not be able to when it's cold. You can also try new things like rock climbing, or even find some hidden treasures on your hike! Bring water along with you so kids stay hydrated while exploring the wilderness.
– Swimming: kids need to stay cool, and nothing beats a dip in the pool or ocean. Swimming is also great exercise kids can do all summer long!
– Playing at the park: kids love playing on swings, slides, monkey bars, and other playground equipment. You could even bring along some friends for fun group activities like tag or hide-and-seek.
– Playing sports outside: kids love the summer heat because it gives them more opportunities to play games like soccer, baseball, football, and basketball with their friends.
– Making art: kids can use summer as an opportunity to express themselves through pictures, paintings, or drawings. They could also create chalk drawings on sidewalks and other surfaces for a cool new look!
Fun Indoor Summer Activities
Next, you might be wondering what kids can do when it's hot outside and all the activities are closed due to the weather. There are plenty of things kids can do inside to help them get through summer too. These quick and easy games, crafts, and puzzles will keep kids entertained for hours while you relax or work on other projects around the house.
– Building a fort: kids can create their own world out of blankets and chairs, or they could even use some cardboard boxes or an old couch to make a temporary home for imaginary friends!
– Make a kids' cookbook: kids can create their own recipes for some of their favorite foods! They could also write about how to assemble and prepare the different dishes, or draw pictures that illustrate them. Have kids make up their own dish with all of the ingredients in front of them – they'll need your help making sure measurements.
Also, the site Red Tricycle has a great article with 40 Indoor Summer Activities, be sure to check it out for more ideas.
DealDash Has Home Decor Items
Finally, if you don't have enough summer activities to keep your kids busy, DealDash can help. There is a generous selection of all sorts of kid's toys and sports items for you to choose from. You will find fun sports items such as footballs, gym balls, and more. You will also find indoor items such as Lego sets, board games, and other fun items. Choose any of the NINE categories, and browse all of the amazing offers.
Thanks for Reading
The summer is a wonderful time to bond with your kids and try some of these indoor and outdoor summer activities. Try these suggestions, and see if you can come up with some new ones for yourself. Thanks so much for reading this new article.
Need exciting and fun kid's items? DealDash has all of the items for your family that you need. You will find awesome items, and things your kids will love. Have a great time on DealDash and happy bidding everyone!
This sponsored DealDash blog article was written by Dawn E, a mother of 3 who loves DealDash. Dawn was compensated for writing this article. Check out Dawn and her cats on Instagram! This blog is written by real DealDash customers. The opinions and advice shared here represent our customers' views and not those of the company.