DealDash's Frugal Mother's Day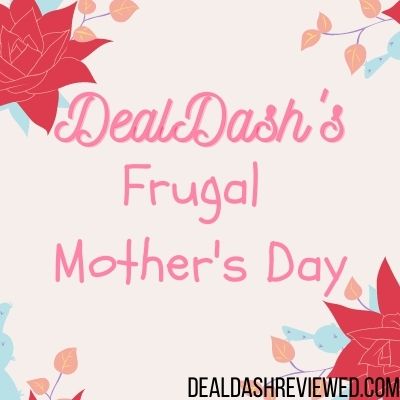 Mother's Day is coming up on Sunday, May 9th, are you ready to treat mom? Here are some frugal and money-saving ideas from DealDash.
Mother's Day will be here soon, have you prepared anything for your mom or the mother of your children yet? Mother's Day is the day that we treat mom as nicely as she has treated us over the years. She has taken care of you and raised you, and she deserves a nice Mother's Day. However, you needn't spend tons of money on this one day. DealDash has some ways to treat your mom yet still be frugal. Read on for some suggestions.
Frugal Mother's Day Slideshow
Let's start out with one of my favorite frugal Mother's Day ideas – a slideshow! Now, I don't mean the old-timey type of slideshow where you project a picture at a time on the wall and tell her about it. No! I mean the digital type. Making a slideshow on the computer is extremely easy, and there are many free programs to help you. But basically, it's as easy as taking some of your favorite photos of your mom and your childhood, uploading them into a slideshow program, picking the music, and letting the computer do the work. With many of these programs, you can choose backgrounds, make text overlays, and even add emojis or animations to the pages.
Personally, I make enough slideshows for different occasions that I actually purchased a slideshow-making software. However, if you only make one or two per year, then free is the way to go. The website Guru99 has a list of the best 25 free slideshow makers. Choose a free slideshow maker, load up the photos, and watch the delight on mom's face this Mother's Day.
Spa Treatment on Frugal Mother's Day
Next, most moms appreciate a spa day now and again. Give your mom the spa day she deserves, at home with her family. There are many components that make up a great spa day, here are just a few ideas:
Nail Care – There's just something that makes nail care feel more relaxing when someone else does it! Help your mom have beautiful nails and relax at the same time by giving her a hand massage and then painting her nails.
Bath Bomb/Salts – Most mothers enjoy a nice soak in the tub, away from the hustle and bustle of family life. The good news for you is there are many recipes for bath bombs/salts online using things that you probably already have at your house such as baking soda and Epsom salts.
DealDash Items – Now for the best news! DealDash has items you can use on Mom's special day. You will find candles, thick towels, and facial cleansers. Spa day doesn't have to be expensive. Get spa day items and make Mom happy.
Make Mom Dinner
Finally, the last thing you should do for Mother's Day is making dinner for her. Now, if you aren't a gourmet chef, don't worry. As a mother, I can attest to the fact that anything that someone else makes for dinner (and cleans up after) tastes great! You will want to start Mom out with an appetizer. Something as simple as sliced French bread with butter works perfectly. Next up can be a salad. A bagged salad with some freshly chopped up tomatoes and cucumbers, followed by some salad dressing is simple, healthy, and delicious. Finally, there's nothing easier than pasta! Simply boil some pasta and put some sauce and cheese on top. Remember, after Mom is done eating, tell her to go relax and you will clean up! It's the perfect end to a great frugal Mother's Day.
Thanks for Reading
Mother's Day is a day to remember how lucky you are to have a wonderful mom. These suggestions will give you some ideas on ways to give Mom a special, yet frugal Mother's Day. Use these suggestions, and your mom will have a Mother's Day she will brag about to her friends!
I hope that you have gotten some good ideas from this article. Thanks for reading the newest blog article, and I hope that you found it to be helpful.
It's time to plan for Mother's Day. DealDash has spa items with free shipping. Check out the candles and spa towels for mom. Have fun today, and happy bidding everyone!
This sponsored DealDash blog article was written by Dawn E, a mother of 3 who loves DealDash. Dawn was compensated for writing this article. Check out Dawn and her cats on Instagram! This blog is written by real DealDash customers. The opinions and advice shared here represent our customers' views and not those of the company.