Organize Baby's Room with DealDash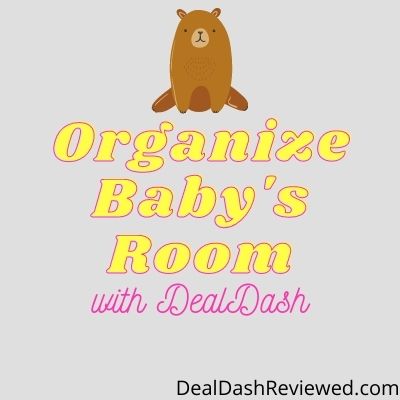 Now is the perfect time to do some spring cleaning. Organize baby's room now with some help from DealDash. Here's how:
Babies have so many tiny items, from teeny socks to mounds of diapers, and sometimes it can be difficult to organize the nursery. You are probably tired of seeing the baby's room in disarray, with pacifiers and stuffed animals everywhere. Organizing the nursery dos not have to be difficult. Here are some suggestions to organize baby's room, from DealDash.
Organize Baby's Room – Clothing
The first step is to get rid of the clothing that your baby isn't going to wear. As all parents know, kids, babies in particular, grow very quickly. Clothing that fit last month might not fit tomorrow. When my kids were tiny, sometimes they didn't even have a chance to wear a clothing item even once before it was too small. Additionally, people love to give clothing as gifts at baby showers, and for no reason other than tiny clothing is cute! However, these items tend to be overly fussy, scratchy material that looks adorable in pictures but isn't very practical in real life. Get rid of them! If you have time, dress baby in the outfit, take a picture to send to the giver and toss the fancy baby outfits in the donation bag.
The process of decluttering your baby's clothing is easy. All you have to do is figure out if your baby still fits in the item, and if the item is a practical piece that you think you will dress baby in more than once or twice. If it's too small or uncomfortable, send it to charity. If the clothing is stained or damaged, it is best to get rid of it and not donate it. However, you will probably want to keep a few of your favorites. Choose a box, bag, or bin that you would like to use to keep your favorites in. Put in the baby hospital gown, the outfit they wore to come home the first time, and any other special items such as their hospital bracelet and first pacifier. Keep this box somewhere safe, your kids will love to look through their special baby items when they are bigger.
Use Bins in Baby's Room
Next, let's talk about bins. You can organize and label the bins depending on what's inside. Most people buy their baby's clothing and toys a bit ahead of time, so you should sort and label the bins accordingly. For example, you can label them "Summer Clothes Age 2T" or "Toys age 12-24 months". Bins are great to use when storing your baby's clothing and toys because they are stackable, waterproof, and can fit many items. The best part about using bins to organize the nursery is that they are reusable! When you bring out a bin with the newest age/size of clothing and toys, you can immediately fill that bin back up with the next biggest clothing size. Using bins can save you so much space by not having to keep the "next size up" of clothing and toys in their dresser or in the toy bin. The size Warm Cozy Home has some excellent articles to organize baby's room if you are looking for even more suggestions.
Get Baby Items on DealDash
Finally, if you are looking for more items to add to the nursery, DealDash can help. Whether you're searching for a play yard or other baby furniture and accessories, DealDash has them! You will also find diaper bags and cute basket sets. If you don't need these items for your own nursery, they also make excellent gifts. The best thing about getting baby items on DealDash is the fact that you always get free shipping! No matter how big or small, how inexpensive or extravagant, all DealDash items have free shipping included.
Thanks For Reading
Organize baby's room today! It might sound a little overwhelming, but with these suggestions, you will no longer have to feel stressed out when you see an unorganized nursery. When you use these tips, your baby will have a clean and organized nursery. Thanks so much for reading this DealDash article on organizing baby's room.
DealDash has baby storage items as well as furniture. You will find auctions for baskets, bins, shelves, and more. Visit now to see how much you can save. Have a great time and happy bidding everyone!
This sponsored DealDash blog article was written by Dawn E, a mother of 3 who loves DealDash. Dawn was compensated for writing this article. Check out Dawn and her cats on Instagram! This blog is written by real DealDash customers. The opinions and advice shared here represent our customers' views and not those of the company.