DealDash Helps Groom Your Dog at Home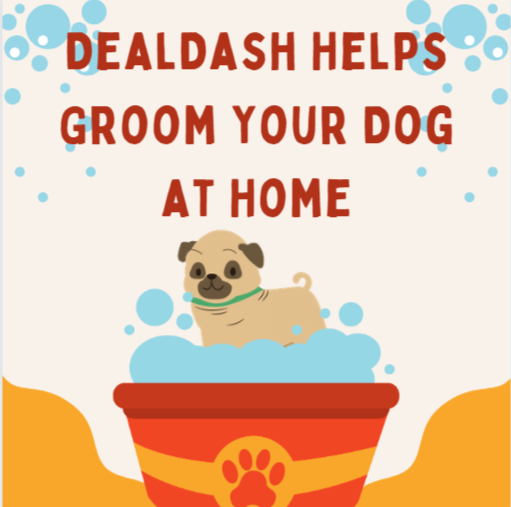 Summer is almost here, and you will be spending more time outdoors with your pup. More time outside = dirtier dogs.
If you're a pet owner, then you know that taking care of your furry friend can be a lot of work. But it's worth it, right? One task that many pet owners find daunting is dog grooming. It can be hard to know where to start, especially if your dog is new to the process. That's where DealDash comes in! We're here to help you groom your dog at home, and make the process as easy and stress-free as possible. Keep reading for our tips on how to give your pup a bath!
Groom Your Dog Using the Right Shampoo
One thing that you'll need for sure when you groom your dog is a good shampoo. You want to make sure that you choose a shampoo that's specifically designed for dogs, as human shampoo can be too harsh for their delicate skin. When it comes to choosing the right shampoo, there are a lot of different options out there. Depending on the type of
coat your dog has, there are certain types of shampoo that are more effective. For an overview of the different types, the site Great Pet Care can help. Check out the best dog shampoos in their article. Finally, talk to your vet about what they recommend, or do some research online to find the best option for your pup.
Washing the Pup Step-By-Step
Once you have the right shampoo, it's time to get started! Fill up your tub with lukewarm water, and wet your dog down thoroughly. Apply the shampoo to their fur, and make sure that you massage it in well. Rinse the shampoo out completely, and then dry your dog off with a towel. And that's it! You've successfully given your dog a bath at home.
DealDash Has Pet Supplies
If you need any pet supplies, including pet bowls, beds, and tents, then be sure to check DealDash. We have a wide variety of pet supplies available, and you're sure to find what you need. Plus, with DealDash auctions you can get great deals on all of the items that you need. So why not join a pet auction today?
Thanks for Reading
Now that you know how to give your dog a bath, it's time to get started! Gather up all of the supplies you'll need, and get ready to pamper your pup. Thanks for reading, and I hope that you found this article helpful!
Do you have any tips on dog grooming? Share them in the comments below! And remember, if you're ever looking for great deals on pet supplies, be sure to check out DealDash! We have everything you need to keep your fur baby happy and healthy. Thanks for reading, and happy bidding everyone!