DealDash Cleaning: The Junk Drawer Edition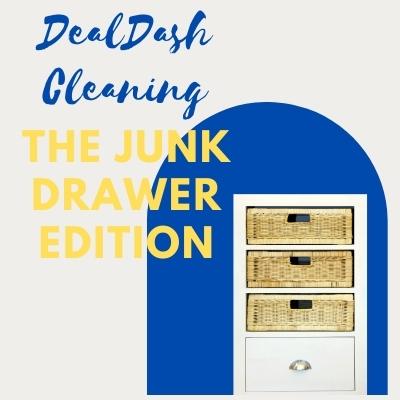 If you're like the rest of us, you have been doing some spring cleaning. It's time for cleaning – the junk drawer edition!
If you're like most people, your junk drawer is a mess. It's full of random things that you don't know what to do with. Well, it's time to clean it out! In this blog post, we will discuss how to clean out your junk drawer and get rid of all the clutter. Follow these simple steps and you'll be organized in no time! Read this article from DealDash, then get cleaning.
Empty the Junk Drawer
The first step is to empty out the drawer. This may seem like a no-brainer, but it's important to do this so you can see what you're dealing with. Once the drawer is empty, take a look at all of the items and decide what you want to keep
and what you can throw away. If you're not sure whether or not you should keep something, ask yourself if you've used it in the past year. If the answer is no, then get rid of it!
Organize the Junk Drawer
Once you've decided what to keep and what to toss, it's time to start organizing. One way to do this is by grouping similar items together. For example, if you have a bunch of pens and pencils, put them in one spot. If you have a bunch of batteries, put them in another spot. This will make it easier to find things when you need them.
Label the Junk Drawer Contents
Another way to organize your junk drawer is by labeling everything. Get some labels and label each group of items. For example, you could label the pens and pencils "Writing Supplies" and label the batteries "Batteries." This will help you know exactly where everything is when you need it. The best way to label your items is with sticky labels. The Brother site has some great suggestions for you to get everything neat and tidy.
Put it All Back – DealDash Helps With Organization
Once you've organized and labeled everything, it's time to put it all back in the drawer. But before you do, make sure to measure the items so you know they'll fit. You don't want your junk drawer to be a cluttered mess again!
DealDash organization doesn't stop with junk drawers. You can find everything you need for organization up for bid. Check DealDash, and you will find great items such as suitcase organizers, bins and boxes, and more!
Thanks for Reading
Now that you've followed these simple steps, your junk drawer should be clean and organized. Congratulations! You can now find anything you need in a snap. Thanks for reading this blog post from DealDash. Thanks for reading, and happy bidding everyone.