DealDash Easy Cleaning Tips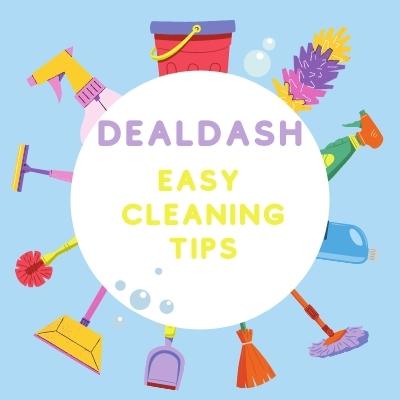 You didn't think that you were going to get away without a spring cleaning post, did you?! Use these easy cleaning tips from DealDash this spring.
It's that time of year again – time for a good old-fashioned spring cleaning! At first, this can be a daunting task, but it doesn't have to be. In this blog post, we will discuss some easy tips that will help make your spring cleaning process a breeze! Use these easy cleaning tips from DealDash to get your home sparkling clean – and quick!
Declutter First for Easy Cleaning
One of the first things you should do when starting your spring cleaning is to declutter. This will make the actual cleaning process much easier and quicker. Go through each room in your house and get rid of any unwanted or
unused items. Additionally, you can donate these items to a local charity, or have a garage sale to make some extra cash! Once you have decluttered, you will be surprised at how much easier it is to clean.
Start with the Big Items
Next, another one of our easy cleaning tips is to start with the big items in each room. This includes things like furniture, appliances, and electronics. Give these items a good dusting or polish, and then move on to the smaller items. This will help you focus your cleaning efforts and make sure that you don't miss anything! Also, think of it this way – what is the first place your eye goes when entering a room? To the biggest item, of course! If your kitchen table is clean, your space will appear considerably cleaner.
Want more cleaning tips? The New York Times has a great article that you will find helpful. It has some new ideas on how to keep your home clean.
Don't Forget to Buy Cleaning Items on DealDash
Finally, the easiest way to clean things quickly is to make sure you have the right tools for the job. For instance, if your cleaning tools are old, they won't be as effective at cleaning as new and improved modern ones. Fortunately, DealDash has a wide variety of cleaning items available at great prices! You can find everything from mops and vacuums to kitchen cleaning bundles. Also, be sure to check out the DealDash website before starting your spring cleaning – you might be surprised at what you find! Additionally, you will get great deals with free shipping included.
Thanks for Reading
These are just a few of our easy cleaning tips to help you get started on your spring cleaning journey. What are some of your favorite tips? Share them with us in the comments below, and also, thanks so much for reading. Happy cleaning and have a great time bidding, everyone!
This sponsored DealDash blog article was written by Dawn E, a mother of 3 who loves DealDash. Dawn was compensated for writing this article. Check out Dawn and her cats on Instagram! This blog is written by real DealDash customers. The opinions and advice shared here represent our customers' views and not those of the company.