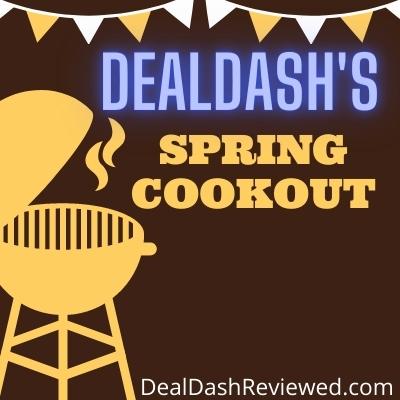 The weather is beautiful out now. Doesn't a spring cookout sound great? Let's get started!
The weather is warming up, which means one thing: it's time for a cookout! Get your grill ready, stock up on some burgers and hot dogs, and invite your friends over for a day of fun in the sun. DealDash has everything you need to make your spring cookout a success, from grills to patio furniture. So fire up the grill and get ready for some good times! Read on for some excellent tips to plan your spring cookout.
Set a Date for Your Spring Cookout
When planning your spring cookout, the first thing you need to do is decide on a date. This can be tricky since you'll want to make sure that everyone you invite is available. Send out a quick group text to the friends and family that you want to invite with a couple of date choices. As the replies start to roll in, choose the date that the majority of the
invitees chose. Once you've got a date set, start sending out invitations. You can either do this electronically with email or a Facebook event or even with old-fashioned paper invitations. Just make sure to include the date, time, and address of the cookout so that everyone knows where they need to be.
Are you interested in making your own paper invitations? It can be a fun craft project! Check out the blog Abby Organizes for tips and tricks to make your own party invitations at home.
Plan Your Menu
Now that you've got a date set for your cookout, it's time to start planning the menu. If you're doing all the cooking yourself, this step is pretty straightforward. Just decide on what you're going to make and make a shopping list. If you're doing potluck style, then send out a group text or email with the list of dishes that you need people to bring. That way, everyone knows what they need to bring and you won't end up with six boxes of macaroni and cheese. If you have any vegetarians in the family, be sure to ask them what kind of veggie burgers or meat substitute patties they prefer.
Don't forget the sides! A cookout isn't complete without some delicious sides. Potato salad, baked beans, chips and dip, and watermelon are all great choices. And of course, you'll need some drinks to wash it all down. If you're serving alcohol, be sure to have plenty of non-alcoholic options available as well.
Get Your Grill and Outdoor Furniture on DealDash
Now that you've got a date and a menu set, it's time to get your grill and outdoor furniture. If you don't have a grill, or if yours is in need of an upgrade, head on over to DealDash. You will find a great selection of grills and outdoor furniture for your spring cookout. One of the best grills around is the Weber Spirit, and DealDash has them! Also, with totally free shipping, you can get everything you need without breaking the bank. So what are you waiting for? Get shopping on DealDash and get ready for a spring cookout that your friends and family will be talking about for years to come!
Thanks for Reading
Thanks so much for reading these tips on having a spring cookout. Do you have any tips for throwing a successful spring cookout? Share them in the comments below! And remember, on DealDash you can find anything and everything that you need for your spring cookout. Have a great day, happy bidding everyone!
This sponsored DealDash blog article was written by Dawn E, a mother of 3 who loves DealDash. Dawn was compensated for writing this article. Check out Dawn and her cats on Instagram! This blog is written by real DealDash customers. The opinions and advice shared here represent our customers' views and not those of the company.