DealDash Spring Picnic: Supplies and Tips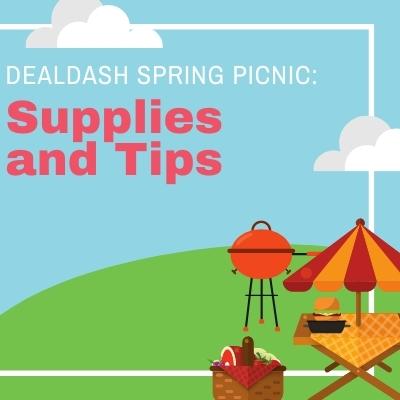 Spring is here, let's have some fun outside! What's more fun than a picnic outside with family and friends?
The weather is warming up and that means it's time for picnics! A spring picnic is a perfect way to enjoy the outdoors and spend time with family and friends. There are a few things you need to know before you head out for your picnic, though. In this blog post, we will discuss everything you need to have a successful spring picnic. We'll talk about the supplies you need, the best places to go, and some tips and tricks for making your picnic as enjoyable as possible. Read on for some great picnic tips.
Spring Picnic Supplies
One of the most important things you'll need for your picnic is a good cooler. This will keep your food and drinks cold and fresh. You'll also need some plates, cups, and utensils. It's always a good idea to bring along some napkins and
paper towels, too. You don't want to be stuck without a way to clean up any spills. Don't forget your blanket(s) to put down on the ground to protect your food and clothing from dirt.
Spring Picnic Food Delights
As for food, you'll want to bring things that are easy to eat and won't spoil in the heat. Easy foods like sandwiches, fruits, and veggies are always a good choice. You can also bring some snacks like chips or pretzels. And don't forget the drinks! Water is always a good idea, but you might also want to bring along some lemonade or iced tea. Be sure to ask your picnic companions if they have any food allergies or sensitivities before you plan your picnic menu.
Choose a Location
Now that you have all of your supplies, it's time to choose a location for your picnic. The best places for picnicking are usually in parks or other open areas with lots of green space. You'll want to find a spot that's away from flowers or bushes, as these can provide hiding places for bugs. You'll also want to make sure there's plenty of room for everyone to sit and enjoy their food.
Get Your Outdoor Supplies on DealDash
One of the great things about picnics is that you don't have to buy many supplies. However, if you would like to really step up your picnic game, DealDash can help. In the Hobbies, Toys, Outdoors, and Games category you will lots of awesome things to make your picnic even better. One of the amazing items that you can use during your picnic is a swinging camp chair. Another thing would be a pop-up gazebo. Imagine that, a picnic with absolutely no bugs and tons of shade. Paradise!
You can also get creative and make some fun picnic games. If you're feeling really ambitious, you can even pack a picnic basket full of all your favorite outdoor games. Check out the Pioneer Woman site for an article with 25 really fun picnic games to try.
Thanks for Reading
No matter what you decide to do, just remember to have fun and enjoy the spring weather! Thanks so much for reading the newest article from DealDash. I hope that it helped you get some ideas to spice up your next spring picnic.
If you have any picnic tips of your own, please share them in the comments below. Also, don't forget to go check out DealDash for all of your outdoor needs. You'll be sure to find everything you need and more. Have a great day and happy bidding, everyone!
This sponsored DealDash blog article was written by Dawn E, a mother of 3 who loves DealDash. Dawn was compensated for writing this article. Check out Dawn and her cats on Instagram! This blog is written by real DealDash customers. The opinions and advice shared here represent our customers' views and not those of the company.