Christmas Shop Early on DealDash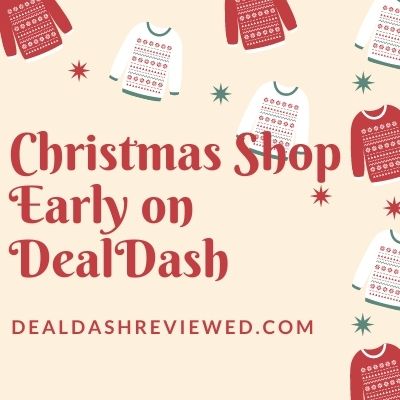 It's all over the news lately – you need to get your holiday shopping done early this year.
It's more important than ever. Due to supply chain issues this year, stores all over the USA will be short on items this year. You don't want to disappoint your friends and family this Christmas season, so be sure to shop early for gifts. DealDash has a few suggestions for you to get your wish lists fulfilled and one less task on your plate this holiday season.
Shop Early – Make a Master List of Gifts for Everyone
This year, I'm determined to get all of my Christmas shopping done early so that everyone can enjoy opening presents without any anxiety or stress. Remember, shop early and alleviate stress later. This year, I will start by making a master list. Instead of having lots of individual lists, condense all of them into one big master list. That way you won't forget anything important.
When you make your master list, instead of grouping people by family, consider grouping people by age instead. This way, as you get your shopping done, you can knock out big chunks of your list at one time. For example, if you group
kids age 0-10 together, you can probably knock everyone in that group out in one day by going to a toy store and a bookstore.
If you don't have kids, or they are all grown up, you might need a little guidance on what to buy. The Today Show has put together a very informative article to help you shop early by age. Check it out for some ideas.
Get Your Shopping Done for Everyone in November
Next, once you have your master list, it's time to get shopping. Start looking online and in-store from the very beginning of November. Stores all over will be offering holiday sales throughout the month but if you wait until after Christmas is closer, they won't be as generous with the discounts. When you shop early, you will be able to take advantage of sales and discounts that won't be offered closer to Christmas.
Be sure to plan your shopping trips and dedicate some time to them. Don't be like me and try to squeeze in a trip between work or with the kids – you will end up forgetting something essential, guaranteed! If you have older children that can drive themselves around town without getting lost (ahem…), consider letting them do the driving so you can focus on other things.
Shop DealDash or Go to the Mall? That is the Question!
Finally, you may be contemplating whether you should shop on DealDash early, at local stores, or go to your usual mall spot for holiday shopping this year. Well, it depends on what's most convenient for you. Do you like to shop at midnight in your PJs, or do you like to try to find a parking spot at the mall and fight the crowds? DealDash is the clear choice in this situation.
My suggestion would be to begin your shopping on DealDash and fill in the gaps after with local stores. No matter if you are looking for a delicate teapot for Mom, or an electronic drum kit for your brother, DealDash has everything on your list that you need to shop early.
Thanks for Reading!
I hope I've given you a few ideas on how to get your Christmas shopping done early. Remember, shop early, and don't forget that DealDash has everything you need for gift-giving this holiday season! Be sure to check out all of the Holiday Gifts that will make everyone on your list happy this year.
Shop early this year and get toys for the kids, jewelry for Mom, or fishing supplies for Dad on DealDash. No matter what you're looking for, you will find it. Have a wonderful day and happy bidding.

This sponsored DealDash blog article was written by Dawn E, a mother of 3 who loves DealDash. Dawn was compensated for writing this article. Check out Dawn and her cats on Instagram! This blog is written by real DealDash customers. The opinions and advice shared here represent our customers' views and not those of the company.