Spring Cleaning 2023 with DealDash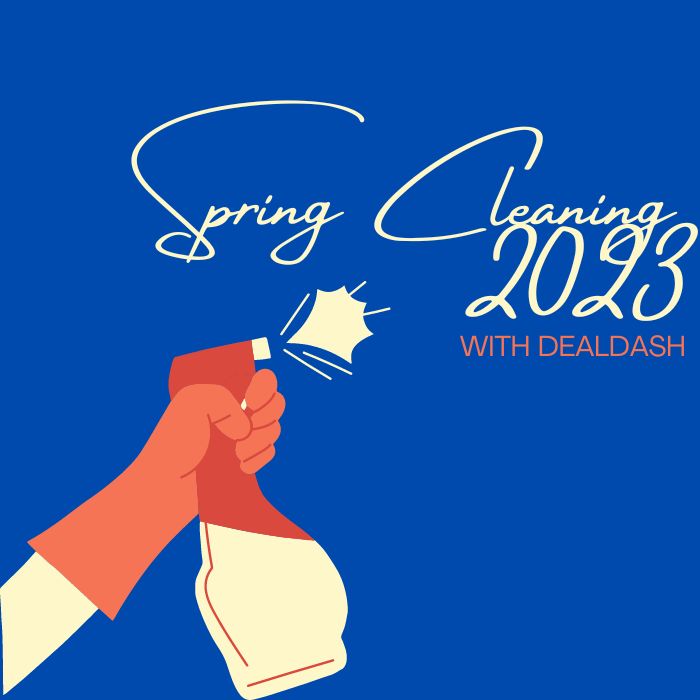 Here comes spring! And with it comes spring cleaning. Love it or hate it, the time to get cleaning is now!
Spring has arrived, and it's time to clean out the cobwebs and refresh your home. Spring cleaning isn't just a liberating task to take on, it's also a necessary one. When handled properly, spring cleaning can save you time and energy in the long run by getting rid of out-of-date items, decluttering, and reorganizing. Not to mention, having a sparkling and organized home can be very calming and make you feel stress-free. But getting started on such a daunting project can seem overwhelming. That's why today, DealDash is here to provide helpful tips on how to effectively do a deep spring cleaning. Let's dive in!
Make a Spring Cleaning Plan
The first step in tackling your spring cleaning is to make a plan of attack. Rather than trying to clean the whole house in one day, break it into manageable chunks so you don't get exhausted or overwhelmed. For example, you might choose to deep clean one room of the house each day, and alternate between rooms. That way, you can keep moving forward in your spring cleaning and find areas that need more attention.
To make sure you hit every nook and cranny, create a checklist and use it to stay organized. As you check off each cleaning task, reward yourself with a short break. Have a quick snack to keep yourself energized. This can help motivate you to keep working, and remind you of your progress. Also, try spring cleaning with a partner, then you can take turns on who does the spring cleaning and who enjoys the break.
Switch Winter Items Out – Reduce, Reuse, Recycle
Next, switch out any winter items you've been using for spring. For example, switch out heavy blankets for lighter ones, bulky sweaters for t-shirts, and winter boots for flip-flips. This can significantly reduce the clutter in your home, making it easier to organize and clean.
Now, let's get into the nitty gritty of spring cleaning. It's a good idea to get rid of any items you don't need or use. Not only will this make your living space look better, it can also free up some storage space. That way, you can put away items you totally need but don't use often. This can be a great way to stay organized.
Be sure to donate any items that are still useable instead of throwing them away. If you're not sure where you can donate items, not to worry. Check out Moving.com, you will find an article that lists different ypes of items and where they can be donated.
Deep Cleaning
What's more, if you're deep cleaning furniture and carpets, now is the time to do it. This can help make a huge difference in the look and feel of your home. Additionally, having your carpet and upholstered furniture cleaned annually can help get rid of allergens and other pollutants, reducing indoor air pollution. Also, it can even make your home smell fresh and clean.
Ready to Organize? DealDash Can Help
Finally, now that everything has been cleaned, it's time to organize. Now, it's well-known that the best way to organize is bookshelves and shelving units. If you are lacking the storage items you need in your home, don't worry. DealDash is here to help you with everything you need to get organized. Whatever you need, be it shelves, cleaning supplies, or storage, DealDash has it! Find everything you're looking for, and more, on DealDash this spring.
Thanks for Reading
Spring cleaning can seem intimidating, but it doesn't have to be. By breaking it down into smaller chunks, using a checklist, decluttering, and switching out winter items for spring items, you can make your spring cleaning manageable and rewarding. Plus, when your deep cleaning is done, you'll have the satisfaction of knowing that your home is fresh and sparkling. So, take a deep breath and get cleaning! Thanks so much for reading the newest DealDash article, and be sure to stop by for your organizational needs. Have a great day, and happy bidding everyone!
This sponsored DealDash blog article was written by Dawn E, a mother of 3 who loves DealDash. Dawn was compensated for writing this article. Check out Dawn and her cats on Instagram! This blog is written by real DealDash customers. The opinions and advice shared here represent our customers' views and not those of the company.