Winter Recipes and DealDash Appliances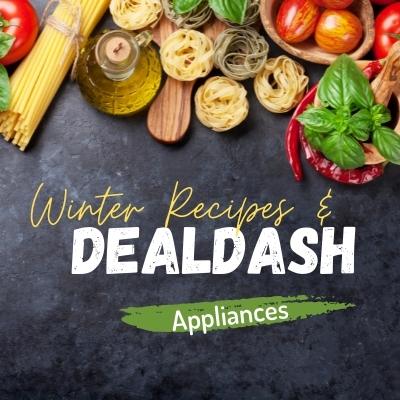 We are finally in the thick of winter. No more warm days, just harsh wind and cold. A warm meal will improve your attitude.
Winter is a cold, dark season that can be difficult for some people to deal with. There are ways to make winter more bearable though- one of them being food! When you're tired and cranky from the long workday or just don't feel like cooking, it's time to whip up something delicious that warms your heart and soul. Included in this post are my top three favorite winter recipes. DealDash has the small appliances you need to help you make these yummy meals. Read on for the details.
Winter Recipe – Slow Cooker Turkey Chili
The first meal that I have to introduce you to is Slow Cooker Turkey Chili. This recipe takes about 15 minutes to put together and goes great with cornbread.
1 – Brown 1 pound of ground turkey in a pan
2 – add the ground turkey and the following ingredients into the slow cooker: 2 (10.75 ounce) cans low sodium tomato soup, 2 cans of your choice of beans (drained), 1/2 a white onion (chopped), 2 tablespoons chili powder, 1/2 teaspoon red pepper flakes, ½ tablespoon garlic powder, ½ tablespoon ground cumin, salt and pepper to taste
3 – Cook 4 hours on High or 8 hours on Low
Winter Recipe – Spicy Thai Curry Soup
Next up in our winter recipe book is Spicy Thai Curry Soup. I love soup in the winter because it fills you up and warms you at the same time. There are many ways to make this soup, but this particular recipe is from the site Fit Foodie Finds.
Ingredients:
1.5 tablespoons coconut oil
1 large sweet potato, peeled and chopped
4 large carrots, peeled and diced
4 cloves garlic, minced
1 medium yellow onion, finely diced
1 large red pepper, finely stripped
5 tablespoons red curry paste
4 cups, broth (any kind)
1 15 oz. can full-fat coconut milk
1/2 tablespoon sriracha (or more, to taste)
2 tablespoons diced green onion
2 tablespoons chopped cilantro
1 lime, juiced
salt, to taste
8 oz. frozen green peas
Directions:
Heat coconut oil in a large pot over medium/high heat. Add sweet potatoes and carrots. Let cook for 7-10 minutes, stirring occasionally. Then, add garlic, onion, and red pepper. Cook for 2-3 minutes. Place the rest of the ingredients (except peas) into the pot and bring to a boil. Turn the heat to low, add peas, and let simmer for 10-15 minutes. Add salt, pepper, extra seasonings to taste.
Winter Recipe – Winter Vegetable Stew
Finally, Winter Vegetable Stew. This stew is hearty enough for dinner but still light enough so you don't feel weighed down. As with the soup above, there are so many different ways that you can make a Winter Vegetable Stew. This is the way that I like to make it, but you can add and subtract ingredients to customize it for your family.
1 – Add your choice of stock to your slow cooker. You can use beef, vegetable, or chicken stock. It's up to you. I like to use 2 boxes in my large slow cooker. You can also add a can of cream of mushroom soup to thicken it up.
2 – Add any combination of the below ingredients to your slow cooker.
3 – Cook 4 hours on High or 8 hours on Low
Peeled and cubed potatoes, baby carrots, can of mushrooms, can of black or kidney beans (drained), chunks of celery, can of chopped tomatoes, chopped white onion, cubed winter squash, cubed zucchini, a bag of egg noodles – and spices to taste. Try garlic and onion powder, cumin, chili flakes, salt and pepper, and even a small dash of cinnamon!
Get Small Appliances on DealDash
Finally, DealDash has small appliances that can help make all of these recipes easier. A Crockpot is a great appliance for winter meals because it keeps your food warm and doesn't heat up your house. You can also try the newest craze, the air fryer. Finally, if you're looking to add a little spice to your life, the bamboo herb cutter set is perfect!
Thanks for Reading!
Thanks for taking the time to check out the newest DealDash article. I hope that you enjoy these winter recipes. Be sure to check out DealDash for the small appliances you need to make them including the slow cooker, stand mixer, and air fryer. Have a great winter and happy bidding everyone!
This sponsored DealDash blog article was written by Dawn E, a mother of 3 who loves DealDash. Dawn was compensated for writing this article. Check out Dawn and her cats on Instagram! This blog is written by real DealDash customers. The opinions and advice shared here represent our customers' views and not those of the company.