DealDash's Best Tidying Tips for January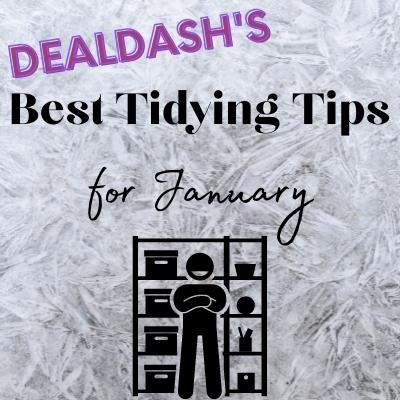 Keeping your home clean is important, but it can take up a lot of your time. Wouldn't it be nice to keep your home clean without a huge time commitment?
January is coming to a close, and it is an excellent time to take stock and make some changes. We all have those little things we do without thinking about them, but they really affect the way our house looks and feels. Sometimes we don't even realize the clutter is taking over until somebody points it out. Think about how good it would feel in your home if it was just cleaned up. DealDash has put together their best tidying tips for January 2022 so you can get your house in order this year.
Tidying Tips #1:
Just for starters, begin with the present. Pick up everything that is in your living room and put it away where it belongs. Put all blankets back on the couch, take off shoes at the door, hang coats up rather than leaving them on a chair or hanging off of furniture. Remember, it's always easier to keep a clean and tidy home if you do a little bit each day. Don't let things build up.
Be sure to get your family on board with this, and have each person take care of their own daily items. Keep those
shoes nicely lined up by the door or in a shoe cabinet. Hang up those jackets each and every day on a coat hook or in the closet. Put those backpacks away each day after school.
Tidying Tips #2
Next, tackle the kitchen. One of the most important parts of the home to keep clean and tidy is the kitchen. The other is the bathroom – but that just takes a short amount of time compared to the kitchen.
It's not just about doing dishes and putting food away. Take time to wipe down your countertops, cabinets, stovetop, and sink with a cleaning solution that is not harsh on you or the environment. A great cheap and safe cleaner is vinegar! Use a 50/50 solution of white vinegar and water to clean just about anything – it's kid and pet safe.
Make sure all of your appliances are clean inside as well! The microwave is one of the most-used appliances in most homes, especially if there are children living there. You can use vinegar to clean the microwave, too! Just stick a microwave-safe bowl of vinegar in the microwave, heat for 3 minutes, then wipe away all of the loosened grime. Be careful of the bowl of vinegar, though, it will be HOT!
The website Healthline has a great article about cleaning with vinegar. Check it out to learn about all of the things that you can use vinegar to clean in your home.
Tidying Tips #3 (DealDash Has You Covered)
Finally, another tip that you should keep in mind is to have all of your supplies on hand at all times. If you have all of your supplies on hand, then cleaning is a lot easier, and you can clean anytime you get a spare 15 minutes. Cleaning doesn't have to be an all-day experience. If you keep all of your supplies at hand and ready to go, you can grab them and get started, even if you only have a few minutes to spare. Remember, cleaning for just 10 minutes is beneficial and better than not cleaning at all.
You already know about DealDash's best deals for the month – now it's time to check out their storage and organization items! You can find organizers in nearly every room of your home. Pick up some containers to put clothes into when they come out of the dryer, rather than leaving them in a heap on the floor. Get some shelves to put your books on instead of stacking them up on the floor or in a closet.
It's also super important to keep your floors clean. One of the best ways to keep your floor clean is by using robot vacuums and mops. DealDash is now offering the best mopping robot around – the iRobot Braava 240. Be sure to check it out if you are looking for sparkling clean floors with practically zero effort.
Thanks for Reading
I appreciate that you took time out of your busy day to read my blog post, and I hope that you found it useful. If you liked this article or any of the other articles on this site, please share them with friends, family members, coworkers – anyone who might find them interesting! Leave a comment below and tell me your favorite tidying tips!
DealDash has you covered for all of your storage and organization needs. Check out their website today to find everything that you need to get your home clean and tidy this year. Try some new organizers or a mopping robot this year. Have a great day and happy bidding everyone!
This sponsored DealDash blog article was written by Dawn E, a mother of 3 who loves DealDash. Dawn was compensated for writing this article. Check out Dawn and her cats on Instagram! This blog is written by real DealDash customers. The opinions and advice shared here represent our customers' views and not those of the company.