DealDash Helps: Plan a Happy Easter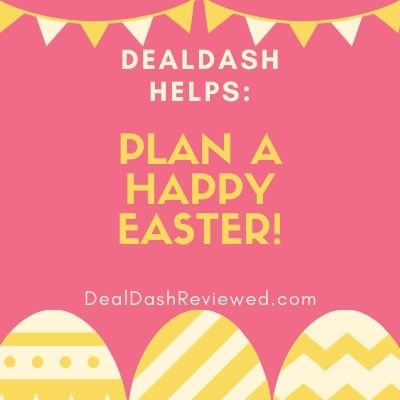 Now is the perfect time to begin planning a happy Easter for your family. Even if you can't be with your extended family in person this year doesn't mean you still can't have a fun holiday. Read this article for some helpful tips from DealDash.
This year, Easter might look a little different than most. Many people don't yet feel comfortable getting together with extended family, so you might have to plan your holiday accordingly. However, that doesn't mean that you still won't have a nice holiday. Here are a few suggestions for having a happy Easter with your family this year.
Virtual Happy Easter Egg Hunt
First things first, if you decide to do a virtual egg hunt, you will have to do a little planning in advance. Find a couple of friends or relatives that are willing to Zoom/Google Meet with you on Easter. Ask them to hide a few eggs (real or plastic) around the room that they will be in when you have your virtual meeting. Tell the kids that each egg that they are able to spot will earn them a small prize – whether it's a piece of candy, a quarter, or an extra 10 minutes of screen time – is up to you. For younger kids, you will want to make sure that the eggs are in plain sight. For older kids, you can ask the egg hiders to get a little more creative and hide them in drawers or places that the kids will have to ask them to open.
If you are stumped for some fun and creative places to hide eggs, don't fret. The site Café Mom has an article with some awesome suggestions. Check out the sneaky hiding spots in the article, and take down a few notes.
Easter Baskets for Everyone
Next, just because your kids might be "too old" for the Easter bunny doesn't mean that they wouldn't like to have an Easter basket. You are never too old for candy! You can get baskets that are pre-filled from the big box store or even the supermarket. However, I prefer to buy an empty basket and fill it up myself. This way I know that the person that receives it will like everything that's in the basket. Additionally, one of my kids has a pretty serious allergy. She knows to read the ingredients on everything before she eats it, but I would hate for her to have to give away most of her candy to her brothers if the pre-filled basket had a lot of candy that had her allergen in it.
If you are stumped for ideas to make great baskets for all of your family members (even the pets!) be sure to read the DealDash Reviewed article that will be posted later this week! You will find ideas to help everyone in the family have a Happy Easter.
DealDash Holiday Help
Finally, if you are a regular reader of this blog, you know that DealDash offers on-trend items that you can win or BIN (Buy It Now). However, did you know that on holidays, DealDash offers sale bid prices, promotional auctions, and even special items? These items can range from cars to design clothing and are the perfect way to celebrate any holiday that you can think of! Also, can you imagine the look on your Mother's face when you present her the gifts? Priceless! So no matter what holiday is happening, DealDash can always help with your holiday gift woes.
Thanks for Reading
Thanks so much for reading this DealDash article on making this a Happy Easter for your family. Don't forget to check back later this week for Easter basket ideas for the whole family. Do you need to shop for Easter gifts for your friends or family? Check DealDash for everything from artwork to power tools, and more! Visit now to see how much you can save. Have a great day and happy bidding everyone!

This sponsored DealDash blog article was written by Dawn E, a mother of 3 who loves DealDash. Dawn was compensated for writing this article. Check out Dawn and her cats on Instagram! This blog is written by real DealDash customers. The opinions and advice shared here represent our customers' views and not those of the company.