DealDash Back to School Tips #4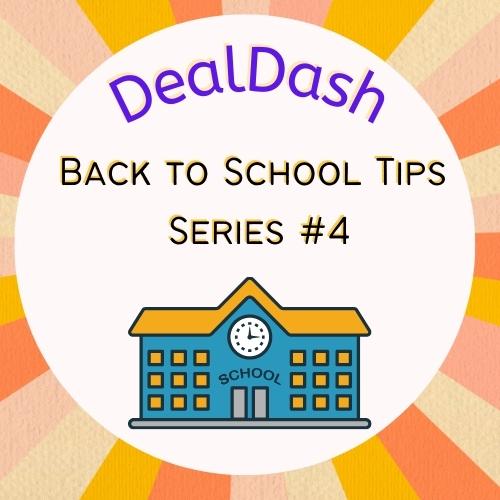 Today I am back with even more tips for a successful new school year for your kids. Read these tips, and help your kids enjoy the new school year.
Back to school season is upon us! Parents are frantically running around trying to get last minute supplies and clothes for their children. It can be a stressful time, but don't worry, we're here to help! In this blog post, we will give you tips on making the transition as smooth as possible. Stay tuned for our next DealDash parenting post, where we will discuss preparing your child academically for the upcoming year. Read on for even more tips for preparing for the upcoming school year.
Be Healthy for School
A very important thing to do is to ensure that your child has had a recent physical examination. This is a good time to check for any health problems that may need to be addressed before the start of the school year. One of the most important things that you can do to prepare for the upcoming school year is to make sure that your child's immunizations are up to date. Many schools require students to have certain vaccinations before they can attend. Check with your child's district website or doctor to find out what is required. You can also check the CDC's website for more information.
It's also a good idea to get a dental checkup at this time. Many dental insurance plans cover two free cleanings per year, so this is a great opportunity to take advantage of that benefit.
Focus on School Skills
Once you have taken care of your child's health, you can focus on their education. Start by helping them brush up on any skills they may have forgotten over the summer. If they are struggling in a particular subject, consider hiring a tutor or enrolling them in a summer school program. It's also important to make sure that your child is getting enough sleep. A tired child will not be able to learn as well as a rested one. Be sure to establish a bedtime routine and stick to it!
School Shopping with DealDash
Finally, you can't talk about the back to school season without mentioning shopping! School supplies can be expensive, but DealDash can help you save money on all of your shopping needs – and wants! Be sure to check out all of the great electronics on DealDash that can help your kids during their school journey. If you're looking for the latest iPad, MacBook Pro, or even just some earphones, be sure to check DealDash first.
Thanks for Reading
With these tips, you and your child will be prepared for the upcoming school year in no time! Stay tuned for our next blog post where we will discuss more back to school tips. I hope that you found these tips helpful. Remember, if your child needs some headphones or a new tablet for school, visit DealDash!
Thanks so much for reading and supporting the blog. Do you have any other tips for preparing for the back to school season? Share them in the comments below. Have a great day, and happy bidding everyone!
This sponsored DealDash blog article was written by Dawn E, a mother of 3 who loves DealDash. Dawn was compensated for writing this article. Check out Dawn and her cats on Instagram! This blog is written by real DealDash customers. The opinions and advice shared here represent our customers' views and not those of the company.