DealDash Fresh Take Decor: Redecorating your Office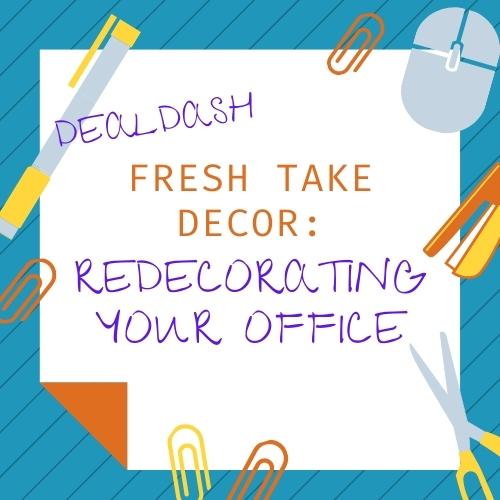 It's time to get a fresh perspective with some fresh office decor. Work will go more smoothly when you're happy in your surroundings.
If you're like most people, your office could use a little bit of a makeover. It's easy to get stuck in a rut, especially when it comes to work. But with a few simple changes, you can give yourself a fresh perspective and feel more inspired when you enter your office each day. In this blog post, we'll discuss some tips for redecorating your office on a budget. Stay tuned for some great ideas from DealDash.
Work With Your Current Office Decor
For starters, a simple way to change up your office without spending a lot of money is to simply rearrange the furniture. Sometimes all it takes is a fresh perspective to make you feel more inspired in your workspace. For example, if you
have your desk tucked away in a corner, why not move it to the center of the room, or in front of a window? Not only will your office space look updated, but it will also give you a fresh perspective when you are working.
Make Small Changes (DealDash Can Help)
Another easy way to change up your office without breaking the bank is to simply switch out some of your current office decor. If you have old, outdated frames, consider replacing them with new ones. Or, if you have a bulletin board that is covered in old fliers and notes, take some time to clear it off and start fresh. Sometimes all it takes is a few small changes to make a big difference in how your office looks and feels.
You should also consider adding some extra storage and organizational items to your office. This can help you to keep your space tidier and can make it easier to find what you need when you are working. DealDash has a great selection of storage and organizational items that can help you to get your office in order. Check out the "L-Shaped Desk With Cage" – it has a beautiful industrial vintage look with an oak finish. Or if you just need some basics, you will also find motion sensor trash can sets, bookshelves, and more.
Add Some Color
Another way to add some freshness to your office is by adding some color. This doesn't mean that you have to paint the entire room or buy all new furniture. Sometimes simply adding a few colorful accents can make a big difference. For example, you could add a vibrant area rug, some throw pillows, or even some new artwork. Or, if you want to really go all out, consider painting one focal wall for a pop of color in an otherwise drab space.
If you're searching for that perfect color, check out the Pantone color of the year, PANTONE 17-3938, Very Peri. It's a beautiful blue-violet color that would look amazing as a focal wall in any office.
Thanks for Reading
We hope that you found these tips for redecorating your office helpful. If you're looking for some great deals on office furniture and decor, be sure to check out DealDash. You'll find everything you need to get your office in tip-top shape. Thanks so much for reading, and happy bidding everyone!
This sponsored DealDash blog article was written by Dawn E, a mother of 3 who loves DealDash. Dawn was compensated for writing this article. Check out Dawn and her cats on Instagram! This blog is written by real DealDash customers. The opinions and advice shared here represent our customers' views and not those of the company.