DealDash Cooks: Make Amazing Cupcakes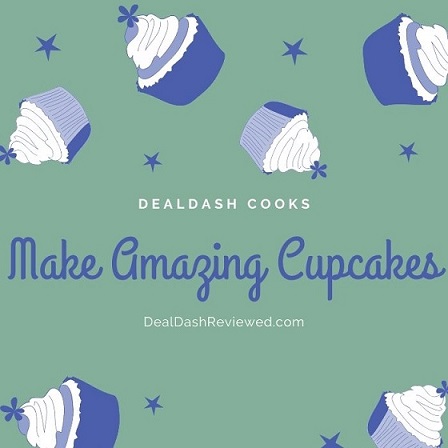 When you feel the urge for dessert, make amazing cupcakes. Here are some tips from DealDash to get you started.
Everyone loves having dessert once in a while. While there are many desserts available, homemade cupcakes are one of the best. Want to make amazing cupcakes? Read on for tips and information from DealDash.
What Makes Cupcakes So Delicious?
Firstly, we need to figure out what it is that makes cupcakes so delicious. Looking over some recipes, unfortunately, it seems that sugar and butter are some of what makes tasty cupcake treats. There are alternatives to these, such as using an artificial sweetener for the sugar and coconut (or similar) oil for the butter. However, if you want your cupcakes to be as moist and delicious as the recipe claims, you should stick with the original recipe. There are recipes out there for reduced fat/reduced calorie cupcakes, though. It just depends on exactly what you want as your dessert.
Choose the Best Recipe – Use the Best Supplies (From DealDash)
There are thousands of cupcake recipes out there, how do you know which one is the most delicious? Well, the glutton in me says that you should try them all! However, more practically, you should get your recipe from a reliable source, and check the reviews before you make them. For example, the Food Network has a great slideshow of their best and most well-liked cupcake recipes. You can check out the recipes, then choose the one that sounds the best to you.
Additionally, to make delicious cupcakes, you will need the proper kitchen tools to make them. For example, you will need mixing bowls, a mixer, a cupcake tray, and utensils. A great place to get the kitchen tools that you need is DealDash. You can browse the Kitchen and Dining category to find everything you need to make yummy cupcakes and more.
Stick to a Classic – Vanilla Cupcake
Finally, the easiest way to ensure that your cupcakes will be delicious is to stick to a classic. There is no cupcake that is more popular or well-loved than the classic vanilla cupcake. Here is a simple recipe to make a great classic vanilla cupcake:
Ingredients
1.25 cups all-purpose flour
1.25 tsp baking powder
.5 tsp salt
.5 cup unsalted butter softened
.75 cup sugar
2 large eggs room temperature
2 tsp vanilla extract
.5 cup buttermilk
Instructions
Preheat the oven to 350°F.
Line a metal cupcake pan with cupcake liners
In a mixing bowl, whisk together 1.25 cups flour, 1.25 tsp baking powder, and .5 tsp salt. Set flour mix aside for later.
Using your mixer, beat butter and sugar on medium-high speed for 5 minutes until thick and fluffy.
Add eggs and 2 tsp vanilla extract. Beat well on medium-high speed.
Reduce mixer speed to medium and add the flour mixture in thirds alternating with the buttermilk, mixing to incorporate with each addition. Beat until just combined and smooth.
Bake the cupcakes for 20-23 minutes at 350 °F, or until a toothpick inserted in the center comes out clean.
Let cupcakes cool in the pan for 5 minutes, then transfer to a wire rack and cool to room temperature before frosting. You can use vanilla frosting, chocolate, or get creative and use a different flavor.
Thanks for Reading
Thanks for reading the newest blog article on making amazing cupcakes. I hope that you found this DealDash article informative and helpful.
If you need any kitchen tools to make amazing cupcakes, DealDash can help you. Check out the Kitchen and Dining Category. Have fun and happy bidding everyone!

This sponsored DealDash blog article was written by Dawn E, a mother of 3 who loves DealDash. Dawn was compensated for writing this article. Check out Dawn and her cats on Instagram! This blog is written by real DealDash customers. The opinions and advice shared here represent our customers' views and not those of the company.