DealDash Kids: Crafts for the Easter Holiday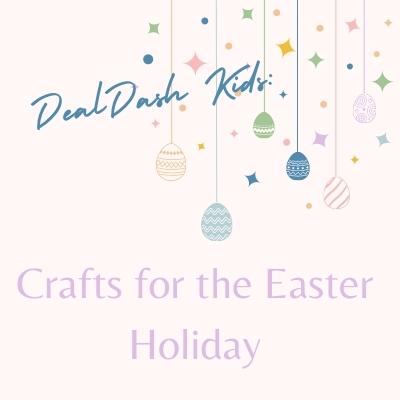 Easter is coming soon, why not get your kids excited for the holiday with some crafts?
Looking for some fun Easter crafts to do with your kids this year? Look no further! In this blog post, we will discuss a variety of different crafts that you can do to celebrate the Easter holiday. From simple egg decorating ideas to more complex projects, we have something for everyone. So gather up your supplies and get ready to have some fun! Read on for some fun ideas, from DealDash.
Easter Egg Crafts
First up, the most classic Easter craft is decorating eggs. You can hard boil eggs and then let your kids go to town with different colors of paint, markers, glitter, etc. If you want to get a little more creative, you can try using rubber stamps or even decoupage to decorate your eggs. The possibilities are endless!
Tired of the same old Easter eggs? The House Beautiful site has some interesting and unique ideas for decorating Easter eggs. Check the article out when you are preparing to decorate your eggs this year.
Make Your Own Easter Basket
Next, another fun craft idea is to make Easter baskets out of paper or fabric. This is a great project for older kids who can handle scissors and glue. Once you have made your basket, you can fill it with all sorts of goodies – candy, toys, flowers, etc. Get creative and have fun! Be sure to make extras for egg hunting!
If you're looking for a more unique Easter basket idea, Martha Stewart has some great options. You can find instructions for a bunny basket, a chick basket, and even an Easter egg basket. These baskets are sure to stand out from the rest!
Easter Cards
Finally, another great craft idea is to make Easter cards. This is a great way to let your kids use their creativity and express themselves. You can either make traditional card designs or get creative with different mediums, like painting or collage. Whatever you decide, your kids are sure to have a blast! Before you get started, help them make a list of people to make cards for. These people might include their grandparents, teacher, bus driver, etc.
Get Easter Gifts on DealDash
Are you looking for some great Easter gifts for your kids? Check out DealDash! You will find a variety of different items, from toys like Legos and Barbies to room decorations. Whatever you are looking for, chances are you will find it on DealDash. Plus, with the auction format, you can save a ton of money on your purchases. So what are you waiting for? Head on over to DealDash and start shopping today!
Thanks for Reading
If you're looking for projects to do with your kids this Easter, why not try one of these fun craft ideas? From egg decorating to making your own Easter baskets, there's something for everyone. So gather up your supplies and get ready to have some fun! You can find all of the supplies you need for these projects at your local craft store.
Do you have any other fun Easter craft ideas that you would like to share? Let us know in the comments below – we would love to hear from you! And if you're looking for more great blogs be sure to check back here each week.
These are just a few ideas to get you started – the possibilities are endless when it comes to celebrating Easter with crafts! Get creative and have fun with your kids this holiday season. From all of us at DealDash, happy crafting!
This sponsored DealDash blog article was written by Dawn E, a mother of 3 who loves DealDash. Dawn was compensated for writing this article. Check out Dawn and her cats on Instagram! This blog is written by real DealDash customers. The opinions and advice shared here represent our customers' views and not those of the company.