DealDash Grills Yummy Burgers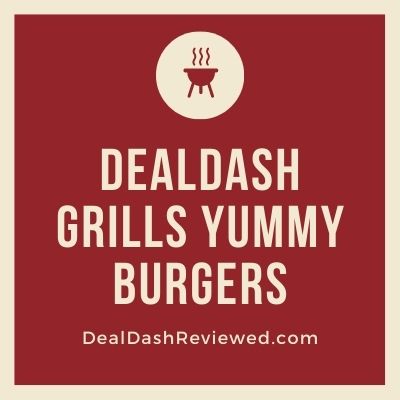 Now that the weather is nicer, it's grilling season! Burgers are the best, but be sure to avoid these mistakes that DealDash has collected for you. Read on for helpful suggestions on grilling yummy burgers.
One of the easiest things to grill is classic and yummy burgers. However, they aren't completely fool-proof. You want your burgers to turn out the best they can be, and there are several mistakes that you should avoid when grilling hamburgers. DealDash has more information on grilling the best hamburgers. Read this article, then try them out for dinner.
Want Yummy Burgers? Keep It Simple
First of all, the best way to grill yummy burgers is to keep them simple. If you want to taste the delicious grilled meat, then you should use only enough condiments to enhance the yummy burger, and not overpower the taste. This not only applies to condiments such as ketchup and mustard that go on after but also seasonings that get mixed in with the meat. A little salt and pepper into the meat mix is great, and you can also add a little garlic or onion powder as well. However, be sure to go lightly on them.
If you would like to try something a little different, you can try making your own burger seasoning. The All Recipes site has many, many different recipes that would be just perfect for your next grilling session. Just remember to use a light hand with the seasonings, no matter which ones you choose.
Yummy Burger Sizes
The size that you make your burger patties is also important. Plan ahead before you cook, and shape your raw patties to be a bit larger around than the bun. Also, keep in mind that you don't want your patties to be too thick or too thin. Try to form your patties about 3/4 an inch thick around the edges and a bit thinner in the middle. Remember, ground meat will shrink as it cooks on the grill. The more fat that's in the meat, the more it'll shrink, and you should be making your patties with around 85% meat. As the meat shrinks, the thickness should level out and be perfect when you are done grilling them.
DealDash Has Great Grilling Supplies
Finally, you want to be sure that you have good-quality tools and supplies to cook your burgers. Having a high-quality grill can help you avoid hot and cold spots in your grill that leads to uneven cooking. If you are looking for your first grill, or maybe replacing an older one, DealDash has lots of choices for you. You will find charcoal, gas, and pellet grills on DealDash. No matter which style you choose, your burgers will be delicious on your new grill.
Thanks for Reading
These suggestions will help you grill yummy burgers for your family and friends. Thanks for reading the newest blog article. I hope that you found this article on cooking burgers interesting.
If you need a new grill, DealDash can help you. Check out the Home, Garden, and Tools category today. You will also find gardening and lawn items, as well. Have fun on DealDash, and happy bidding everyone!
This sponsored DealDash blog article was written by Dawn E, a mother of 3 who loves DealDash. Dawn was compensated for writing this article. Check out Dawn and her cats on Instagram! This blog is written by real DealDash customers. The opinions and advice shared here represent our customers' views and not those of the company.