DealDash's Healthy Snacks for Everyone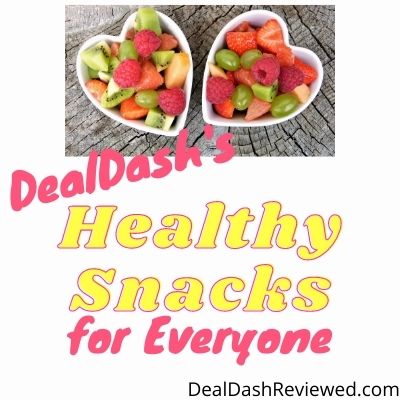 Everyone has a snack now and then. However, it's important that you try to choose healthy snacks that will help fuel your body and not just make you full. DealDash has some suggestions for snacks for everyone.
Kids and adults alike love to have a snack. There are many snacks available that are not healthy, you should try to eat snacks that are both delicious and good for you. There are many benefits to eating healthy snacks, and you will find that they can be tasty as well. Read on for yummy suggestions and information from DealDash.
Healthy Snacks Pack in Nutrients
Firstly, when you are choosing to eat a healthy snack, you will want to choose one that is packed full of vitamins and nutrients. A great benefit of choosing a snack that has a lot of vitamins and nutrients is that it will help keep you full until your next meal. This is unlike having an unhealthy snack such as a candy bar, which will only satiate your appetite for an hour or so. When you eat foods that have a lot of valuable nutrients you will feel full for much longer. Here is a short list of snacks that will help keep you full and pack in the nutrients.
Yogurt – You can also add chopped fresh fruit or a little granola to make it extra-filling
Cut-up veggies like carrots, celery, and peppers with guacamole
A few nuts with raisins
A hard-boiled egg
Apple wedges with a small amount of peanut butter
Celery – you can add anything you like to them, such as peanut butter, cream cheese, or cottage cheese
Fruit – you can dip them in a little cream cheese for extra flavor
The Delish site has a great slideshow with beautiful pictures of suggestions for 44 healthy snacks you should check out.
Healthy Snacks Can Help Your Weight
Also, choosing to eat healthy snacks instead of fatty and greasy ones, you can help keep your weight in check. Depriving yourself of snacks altogether isn't a good plan, because you won't be able to keep it up long-term. By choosing to eat nutrient-rich snacks you will get the satisfaction of having a snack. And when you choose snacks that are low in calories you will be able to snack without adding too many extra calories. There are lots of good reasons to have a snack, such as the obvious – you're hungry. However, there are other reasons as well such as you know that you will be having dinner late that night, or you have a busy day and won't have time for lunch.
DealDash Has Kitchen Supplies
Finally, if you are looking for some help making your healthy snacks, DealDash has you covered. To make healthy snacks you will need the proper kitchen tools to make them. For example, you will need a cutting board, sharp knife, and utensils. You can browse the Kitchen and Dining category to find everything you need to make yummy and healthy snacks.
Thanks for Reading
In conclusion, these are just a few ways you can enjoy healthy snacks. You'll see that they're much more filling and a better idea than choosing snacks with empty calories. Thanks for reading the newest blog article. I hope that you found this article on eating healthy snacks helpful.
If you need any kitchen tools DealDash can help you. Check out the Kitchen and Dining Category for cutting boards, utensils, and small appliances. Have fun on DealDash, and happy bidding everyone!
This sponsored DealDash blog article was written by Dawn E, a mother of 3 who loves DealDash. Dawn was compensated for writing this article. Check out Dawn and her cats on Instagram! This blog is written by real DealDash customers. The opinions and advice shared here represent our customers' views and not those of the company.