DealDash Kids: Set End-of-Year Goals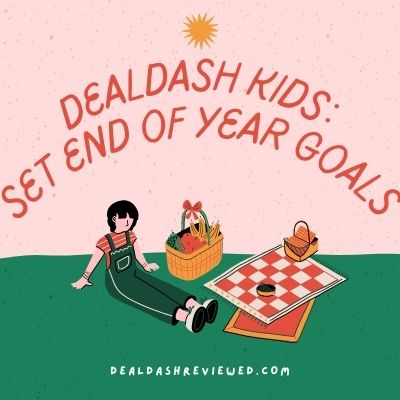 There are only a couple of months of school left this year. However, there's still time to help your kids set end-of-year goals.
Depending on where you live, school will be ending in the next 1.5-2 months. It isn't a lot of time, but there is time to help them set end-of-year goals. No matter their age, teaching kids how to set goals is a great skill they should learn. The younger the better, of course, but even if your child is in high school, it's not too late. Kids should know that setting goals is fun and can feel very satisfying when accomplished. Here are some tips to keep in mind when helping your kids set a end-of-year goals. Read on for some helpful information from DealDash.
Let Them Choose End-of-Year Goals
For starters, one of the most important things to remember is to let your kids take the lead when setting their end-of-year goal. The younger they are, the more help and direction they may need, but let them take the lead. Of course, smaller kids might try to set an unachievable goal such as "learn to ride a unicorn", so you can gently steer them to something more realistic such as "take a horse riding lesson". Encouraging them to set smaller goals and achieve them will inspire the confidence to take on larger goals later on. For instance, setting a goal such as "complete my homework every night for a week straight without having mom tell me to do it" is an easy and quick goal that shows them that they have the power to complete the goals they set.
Make a Goal Board
Next, writing down goals should also be part of helping your kids set an end-of-year goal. Writing the goal(s) down on paper is well and good, but making a larger goal board can be very helpful for kids and adults alike. You can use a chalkboard, a whiteboard, a corkboard, or even just a piece of poster board from the dollar store. Find a place that you can keep your goal board (also known as vision or dream board) to see the size available, and then you can choose the board. Some people like to keep their goal boards in the kitchen because most people use the kitchen multiple times per day, but you might choose to keep the goal board in the playroom or your child's bedroom.
Personally, we keep our family's whiteboard in the hallway that connects the kitchen to the downstairs bathroom. It's a good place for us because it's in a place that we all pass by daily, but it doesn't interfere with the "vibe" of the kitchen. Let your kids help plan out the goal board, and remind them to write down their goals and look at them daily.
If you're having trouble getting started, there is a site called "Develop Good Habits". You can read their article 51 Vision Board Ideas to get some ideas.
Get a Goal Achievement Gift on DealDash
Finally, as adults, we know that achieving a goal is its own reward. However, kids (especially younger ones) might not see it that way. So to set them up for positive feelings relating to goals, you can get them a gift for achieving their goal. For the smallest of goals, something like a candy bar or sticker sheet will work. For a big goal, however, I think that a gift is in order. DealDash has some wonderful items for kids in the Hobbies, Toys, Outdoors, and Games category. You will find things that little kids love such as bikes with training wheels and Lego sets for all ages. Even if your child hasn't completed their goal yet, you will want to stock up on a gift or two for when they have completed an end-of-year goal. So find a surprise gift for your child today!
Thanks for Reading
Thanks so much for reading this article on helping your kids set an end-of-year goal. As parents (or grandparents), it is never too early to teach kids about setting and reaching goals. Remember, they will be much more likely to achieve the goals that they set for themselves, you just need to guide them in the right direction.
Need a gift for your goal-achieving kids? You can get fun items and toys on DealDash. You will find Legos, video games, bikes, and many other items. Visit now and save. Have a great time on DealDash everyone, and happy bidding!
This sponsored DealDash blog article was written by Dawn E, a mother of 3 who loves DealDash. Dawn was compensated for writing this article. Check out Dawn and her cats on Instagram! This blog is written by real DealDash customers. The opinions and advice shared here represent our customers' views and not those of the company.