DealDash's Tips for Relaxation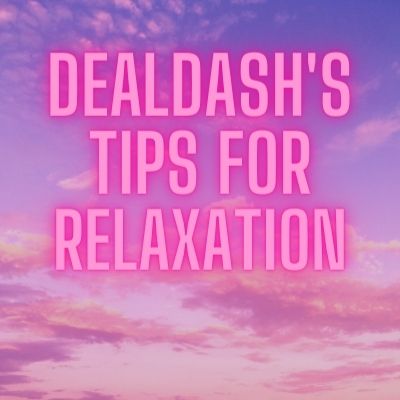 People have had a tough year, and many need to find ways to relax. DealDash is here to help you with some tips for relaxation.
It can be tough to relax after a stressful day of work. However, being able to relax is very important for your overall wellbeing. You might find at first that it's difficult to be able to take the time out for yourself for a little pampering and relaxation. As you start making relaxation a priority, though, it will get easier. Read on for some tips for relaxation, from DealDash.
Tips for Relaxation – Soothing Hobby
To begin with, having a hobby that can help you relax is very important. Some hobbies, while fun, can be a little stressful, such as going to the rock-climbing gym. So if you don't have a hobby that is more relaxing, it's time to find
one. Another important factor when you are thinking about picking up a relaxing hobby is if you can do it in your home or not. Most people would prefer to relax at home after work, so keep that in mind when choosing a hobby. The hobby you choose is up to your preferences, but there are a few key items to think about.
Will you personally find it soothing and relaxing?
Is this new hobby easy to learn?
Is this a hobby that is sustainable for you long-term?
Is this hobby affordable for you?
Relax With an App
Next, there are many, many free apps for both iPhone and Android that are made to help people relax. There are meditation apps, Apps that will tell you a story, apps that offer coloring or puzzles. When you are searching for an app to help you relax, be sure that you sort by reviews. This way, you can see which apps that people have found the most relaxing. If you would like a little help to steer you in the right direction, the site Creative Bloom has an article with its top 10 choices.
Spend Time on DealDash
Finally, many people (including me!) find shopping very relaxing. There is just something about browsing around while you are making a choice that I personally find soothing. So if you feel the same way, then you will want to head on over to DealDash. While you're there, you can even pick up some things to help you relax. You can relax with a bath and a nice fluffy towel and candles.
Thanks for Reading
I hope that this article has given you some tips for relaxation that can help. Thanks for reading the newest blog article, I really appreciate all of the readers out there. I hope that you found this article on de-stressing and relaxing interesting. We have a new article here on DealDash Reviewed every single day. It could be cooking, family, crafting, health, or lifestyle.
If you need something to help you relax and also receive free shipping you need to check out the newest auctions now. Check out the spa and wellness items. Treat yourself and relax. Happy bidding everyone!
This sponsored DealDash blog article was written by Dawn E, a mother of 3 who loves DealDash. Dawn was compensated for writing this article. Check out Dawn and her cats on Instagram! This blog is written by real DealDash customers. The opinions and advice shared here represent our customers' views and not those of the company.