DealDash Quick Tips for Cleaning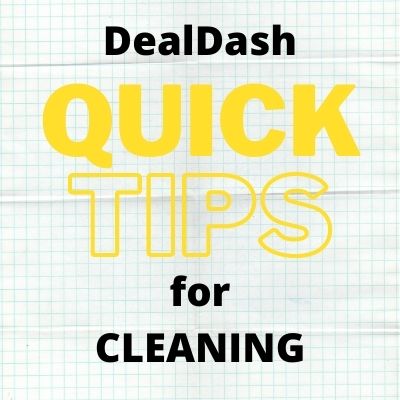 If you are ever feeling frustrated that your house isn't as clean as you would like it – but you don't have a lot of spare time, DealDash is here to help.
Most people want to have an orderly home and a cleaner space in which to live. It may seem overwhelming to get your house in order, but these quick tips from DealDash that you can use to get your space in order – ASAP! Read these tips and cleaning will be a breeze.
Quick Tips – 1– Get a Basket (From DealDash)
To start with, a house that is already moderately straightened is much easier to clean. So the very first thing that you need to do is get yourself a basket. It can be a "classic" style of basket, a canvas tote, or even just a shallow laundry hamper. Each day, preferably at the same time, go through the entire house with your basket. Pick up anything that doesn't belong there, and put it in the basket. As you go through the rooms of the house, you can put away the things that you have collected.
Not everyone has a spare basket that they can dedicate to this task every day. However, DealDash has a nice assortment of baskets, hampers, and totes for you to choose from. You will find these in the Home, Garden, and Tools category, so be sure to give it a look.
Quick Tips – 2- Get Some Help
Next – and I know this isn't a possibility for everyone – but get the other members of your household to help you! You might think this is just common sense, but I know as a mom, sometimes I forget to simply ask for help. When your kids are tiny, asking them for help just makes things take longer (and sometimes creates more mess), but as they get older they can make a difference. At around Elementary School age, 6+ or so, kids are typically able to help:
Put away their own things and clean their room
Put away the (non-breakable) dishes from the dishwasher
Put their own clothes in the washer/dryer – and fold/hang if you don't mind a bit of sloppiness
Use a handheld "Dustbuster" type vacuum to clean up crumbs and small messes
Help bring the recycling to the bin
Quick Tips – 3 – It's Okay if it's Not Perfect
Finally, I know this is an article on how to get your home clean – but I would also like to say that it's okay if everything isn't perfect. I know some people that actually skip cleaning because they don't have time to "do it perfectly". When you do things this way, everything just builds up and you have a gigantic amount of work when you finally "have time" on the weekend. Things will be so much quicker, easier, and less stressful if you can do a bit each day. 15 minutes of cleaning is always better than zero!
Additionally, cleaning as you go is a great way to make things easier for yourself later on. This will help you keep the mess to a minimum. For some more helpful housecleaning tips, check out the article on DIY Network, 10 Pro Tips to Get Housecleaning Done Fast.
Thanks for Reading
Cleaning is a good way to make your home feel more comfortable for you and your family. These tips will help you stick to your cleaning resolution. When you follow these tips, you will have a clean house in no time, with a little help from DealDash. Thanks so much for reading this article on cleaning, quickly. Don't forget to check back often for new articles here.
Do you need a basket, tote, or laundry basket? Go check out the Home, Garden, and Tools category for lots of variety. Visit DealDash now to see how much you can save. Have a great time and happy bidding everyone!
This sponsored DealDash blog article was written by Dawn E, a mother of 3 who loves DealDash. Dawn was compensated for writing this article. Check out Dawn and her cats on Instagram! This blog is written by real DealDash customers. The opinions and advice shared here represent our customers' views and not those of the company.