DealDash Organizes: Walk-In Closet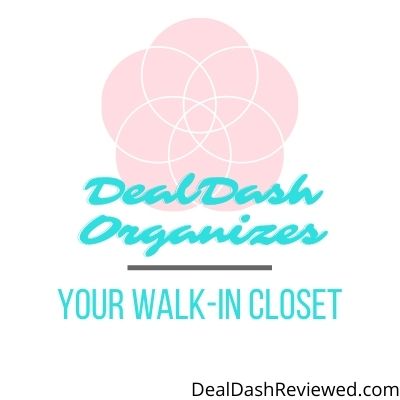 Having an organized home makes life go more smoothly. Let's tackle your walk-in closet. Here are some tips from DealDash to help.
Not everyone has a walk-in closet. However, if you do, you know that it takes more than tossing everything in and shutting the door to keep things organized. Additionally, you'll need to think of things like storage and function to keep it looking it's best. Here are some tips to create a more organized walk-in closet, from DealDash.
Organized Closet, Organized Home
To begin with, everyone wants to have an organized home. One of the best ways to start is by organizing your walk-in closet. If you are able to maximize the space in your large closet, you will be able to keep more items inside the closet. This means less clutter around your organized home.
To begin with, where is your walk-in closet located? Many homes have a walk-in closet near the kitchen that people use as a pantry, some homes have a walk-in closet in the entrance of the home, and others have one in a bathroom or bedroom. Depending on where your closet is located can help you figure out how you want to organize it, and what you would like to keep inside. For instance, we have one near the front door. We keep the typical things in it such as coats, but I have also installed a shelving system that houses all of our family's board games.
Storage Solutions from DealDash
Next, after you have determined what you would like to keep in your walk-in closet, you will need storage solutions. These can range from wall shelves, bookshelves, hanging racks, bins, totes, and more. You can get many of these items on DealDash. When you shop on DealDash, you will be able to find the storage solutions you need, get free shipping, and not even have to leave the house to shop. Having an organized home is important, and being able to shop safely at home is the winning solution.
Clean and Organize Daily
Finally, once you have an organized home, it's easier to keep it if you clean your messes as soon as possible. Once you have decided what will "live" in your walk-in closet and have it all set up, you will need to work to keep it nice. This means that everyone in the family has to work together to return items to the closet as they are used. This might sound tricky if you have kids, but kids as young as three or so should be able to return things into bins or onto shelves. You just have to make it into a habit and be sure to praise them when they put things away nicely.
Oprah Magazine has an informative article with 30 tips on organizing small closets. Be sure to check it out if you don't have a large walk-in closet to work with.
Thanks for Reading
These are just a few tips to help organize your walk-in closet. If you take the time to get things organized correctly, it will be much easier to keep your space looking beautiful and love your organized home. Thanks so much for reading this DealDash article on closet organization.
Do you need home organization items? Check DealDash for shelving, bins, and more. You will find everything you need for an organized home. Have a great time on DealDash and happy bidding everyone!
This sponsored DealDash blog article was written by Dawn E, a mother of 3 who loves DealDash. Dawn was compensated for writing this article. Check out Dawn and her cats on Instagram! This blog is written by real DealDash customers. The opinions and advice shared here represent our customers' views and not those of the company.