DealDash Summer Foods: July Edition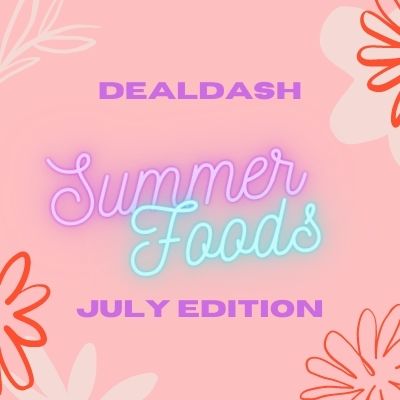 July is here, and it's time for some tasty summer foods. Here are a couple of ideas from DealDash. Use these ideas, and enjoy your summer even more!
July is upon us, the weather is getting hotter – summer is here! Most people eat a little differently in the summer than in the winter. The foods that people tend to reach for in the summer are typically lighter, easy to prepare, and fun to eat outdoors. If you're looking for some fresh suggestions for summer foods, look no further than these suggestions from DealDash.
Fresh Homemade Pizza
To begin with, a fun summer food staple is pizza! However, don't get greasy and expensive delivery! Make that pizza yourself. When you make pizza yourself, you control the amount of cheese and toppings, and you can make it however you like. In the summer, many people have gardens with freshly grown veggies that are perfect to put on your
homemade pizza. Choose things from your garden (or the farmer's market), such as green peppers, onions, tomatoes, and even eggplant! Did you know that homemade pizza is the perfect summer food because you can even grill it outside! If you would like to learn how to grill a pizza outside, The Pioneer Woman has an article with instructions for a perfectly grilled pizza.
Summer Foods (and Drinks!)
Next, don't forget, July is one of the hottest months of the year. If you plan on spending a lot of time outdoors, you will need cool and refreshing drinks. You want to make drinks that are refreshing, have a high water content for hydration, and are suitable for the whole family. Here is a list of drinks that you should try with your summer foods this July.
Strawberry Lemonaid
Thai Iced Tea
Shirley Temple
Arnold Palmer
Dole Whip Lemonaid
Sweet Iced Tea
Sparkling Limeaid
Tiny Strawberry Shortcakes
Finally, strawberry shortcake is the perfect dessert for summer. However, you know what's even better? Tiny strawberry shortcakes. Many people love regular strawberry shortcake, and tiny ones have the same great taste and are a yummy food to serve your family. All you need are pre-made angel cake cups (or make your own in a muffin tin), freshly sliced strawberries, and whipped cream! They are a great way to let your kids "help" in the kitchen. After slicing the strawberries for them and gather all of the ingredients, your kids can put them together themselves. Fun!
Need New Kitchen tools? Check DealDash Now
I have been on DealDash for many years, and their Kitchen and Dining category is my favorite of all of the different categories. And no matter what you need in the kitchen to make summer foods this July, DealDash has got them! You will find everyday kitchen items such as food processors, food dehydrators, cutting boards. Additionally, you will find items great for cooking summer foods, such as grills, grilling tools, and large bowls for outdoor family-style dining.
Thanks for Reading the Blog
Enjoying summer foods outdoors this July is a great way to spend time with your family. These ideas will help you create a fun atmosphere with yummy foods that your family will love.
Thank you so much for reading this article today. If you need kitchen items, be sure to check out the kitchen auctions on DealDash. Visit now and find great items that will be just perfect for cooking outdoors this summer. Have a great day, and happy bidding everyone!
This sponsored DealDash blog article was written by Dawn E, a mother of 3 who loves DealDash. Dawn was compensated for writing this article. Check out Dawn and her cats on Instagram! This blog is written by real DealDash customers. The opinions and advice shared here represent our customers' views and not those of the company.